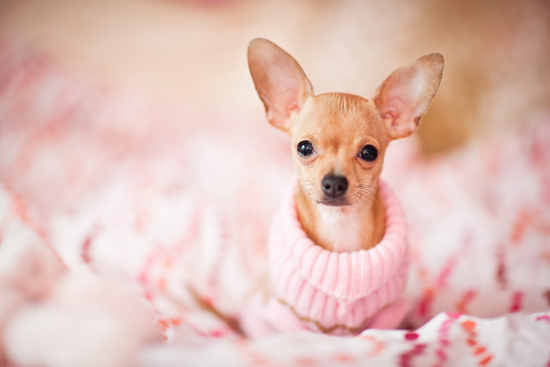 Hailing from Montreal, QC, Simone Fauque of SF Photography is a vibrant, up-and-coming pet photographer who I am proud to say I have had the pleasure of working with a lot through various issues of Pawsh. Her ability to capture free-spirited moments with bold colour palates and modern artistry makes her portfolio a gem that only becomes more and more polished as time passes. I chatted with Simone about her inspirational experiences, her unique business advice and her guilty fashion pleasure!

1) Who are your pets?
Oliver, my tabby cat, partner in crime since 2001 and Izzy (Pleasant Surprise) my sister's selle francais horse who I get to ride regularly.
2) What is your educational background?
Three year Professional Photography Program at Dawson College, Montreal QC.
3) What is your favourite camera/lens?
My current fave camera is the Canon 5D, paired with the 85mm; although I'm pretty sure I will be treating myself to the Canon 5D mark 3 before summer 2013 ! Recently I have been bringing my Canon 580 flash and bouncing it off walls next or behind me and I'm loving the results.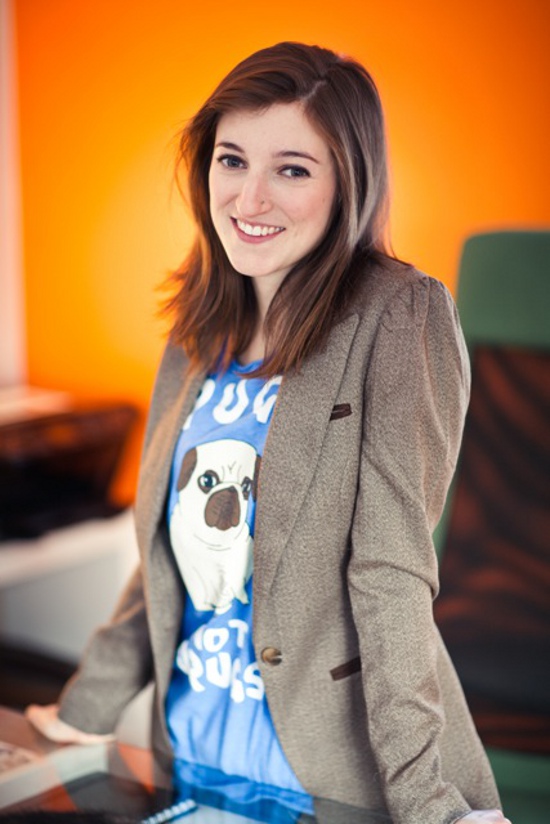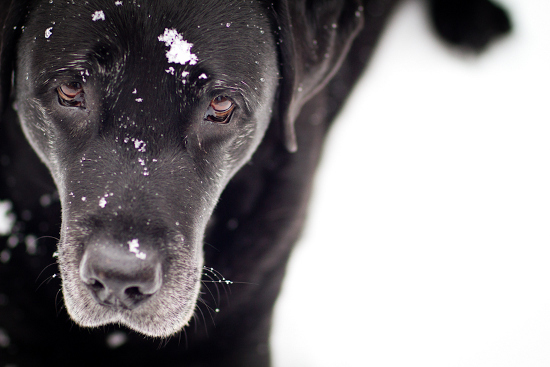 4) What is your most memorable pet photoshoot to date. Why?
One of my most memorable photoshoots made me realize how much I love what I do. This happened at a horse and rider photo session. I love to have the riders hop on bareback and we head into the woods for photos.
One of my first sessions I asked my subject to go to the top of the hill ahead, as I started walking in that direction she came thundering by at a canter, hair flying in the wind, no saddle just full speed ahead!  It was a really cool moment. I love these free spirited and confident riders, and the photos captured at such sessions are exceptional!
5) What has been your greatest professional challenge or triumph?
One of my greatest triumphs was this Winter 2012 — I donated $25 from each of my holiday sessions to the SPCA Vallepyfield. Once the holidays were over I headed out to Valleyfield to present them with the money I had raised. The woman I had been corresponding with was so thrilled to see me and touched that I would donated a portion of my session fee/time to help her SPCA that she gave me a full tour.
I got to meet all 350 cats they had and saw first hand what I was helping. I did some extra photos for her that day of animals who had been with them a long time for her to post online. I could see my cat Oliver in every one of those cats, the whole experience felt personal and was amazingly rewarding.
6) What has been the greatest lesson taught to you by a pet?
Since becoming involved with rescue groups and animal shelters I have met many animals with disabilities or animals that had a very rough start at life. It's a bit cliché, but I am constantly reminded how animals are a testament to living in the moment with exuberance.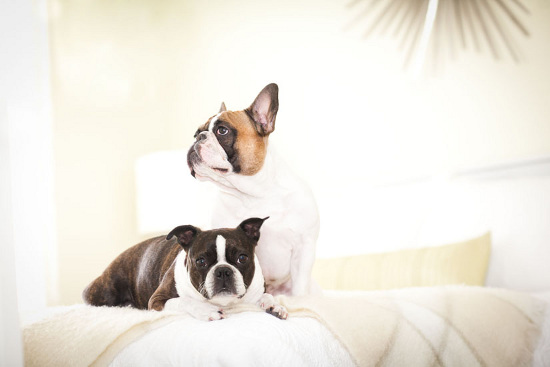 7) What advice would you give to someone wishing to start a pet photography business? Keep your chin up! You should see the look on peoples faces when I say I'm a pet photographer. It's that blank stare that says, "Right… okay, well good luck with THAT." In the beginning I used to say, "I'm a pet photographer, and I shoot some weddings on the side," which made me feel that they took me more seriously, but I no longer add that.
Yes, I have shot weddings and do enjoy it, but that is not where my heart lies. I am a believer of do what you love, and the rest will follow. People deeply love their animals and having a beautiful portrait done, really isn't that crazy an idea.
8) What are some of your favourite pet products at the moment?
I love supporting local! At a pet fair last summer I saw a booth that was selling these awesome, colorful bow ties for dogs. I had a photo booth set up at this pet fair and I asked if I could borrow a few of their bow ties for dogs to wear in the booth, she was more then happy to lend me a few and even let me take of one of them home!
Thus began my relationship with Chuckle Hounds. I love her products!  Recently Oliver got a new bowl and placemat from OrePets. I definitely have a soft spot for cute orange pet accessories…  Hotdogs All Dressed is another local fav. I got my niece a Hotdogs leash for her pup this Christmas. Great design and quality leather leashes and collars.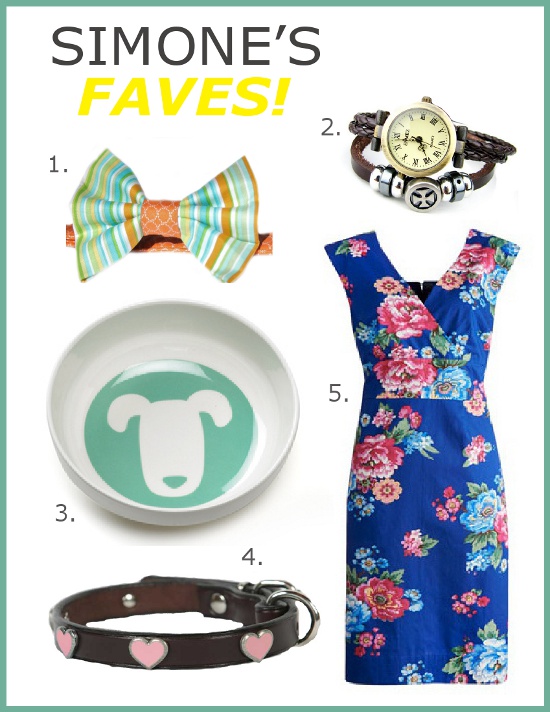 9) What's on your shopping wishlist at the moment?
I love deer and I recently found a locket with a deer engraved on the front, from Etsy by VillaSorgenfrei.  Would really love a funky watch, also found one on Etsy by Especially2U.  Nearly any item of Joules clothing!
This may sound lame, but I would really like a sweet looking fanny pack. I'm often lugging around my camera bag full of equipment at photo shoots, but with a fanny pack, I could keep my extra batteries, compact flash cards, squeaky toy and treats while staying hands free, genius!  I love Etsy! You find such original items.
Get Simone's look:
1. Chuckle Hounds Bowtie Collar  2. Fashion watch  3. ORE Retro Dog Bowl  4. Hot Dogs leather collar  5. JULIA spring dress
10) Do you have any resolutions for this year?
One of my new year's resolutions would be to better establish my work schedule. Because I work from home, I often find myself doing silly things like answering emails at 11:30pm, working in my pajamas, checking my Facebook too frequently or working seven days a week. Time to balance and divide work time and play time, stay productive but never over whelmed.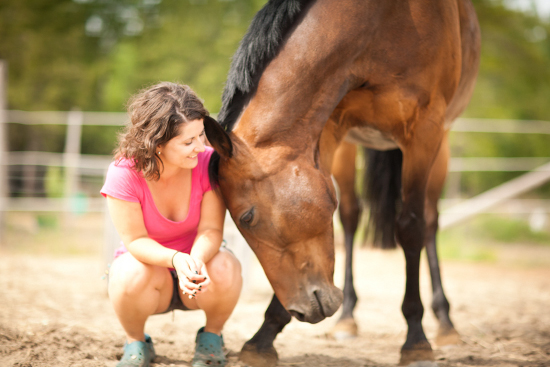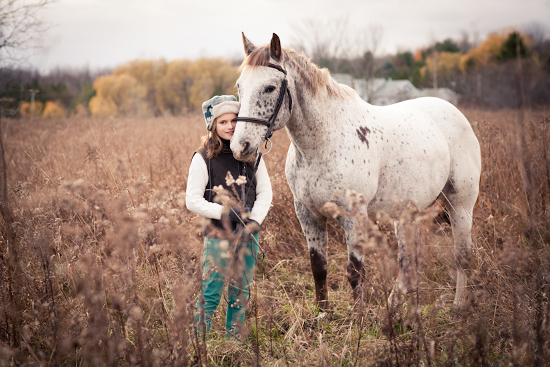 11) What is something you would like to see happen/change in the pet world in 2013?
I'm going to dream big and say that I would LOVE to see every single pet store become a rescue. Pet stores are way of tempting kids (or anyone interested in looking at adorable animals) to wander in and fall in love with a puppy or kitten on the spot. If pet stores became "rescue stores" we might be able to do away with the puppy mills, once and for all.
12) Is there anything else you would like to add?
Thank you Laura Benn for this awesome opportunity to be featured in Pawsh!
Thanks to YOU Simone! You can check out some of Simone's past Pawsh assignments here, here and here. And be sure to follow her on Facebook to keep up with her latest photo sessions!