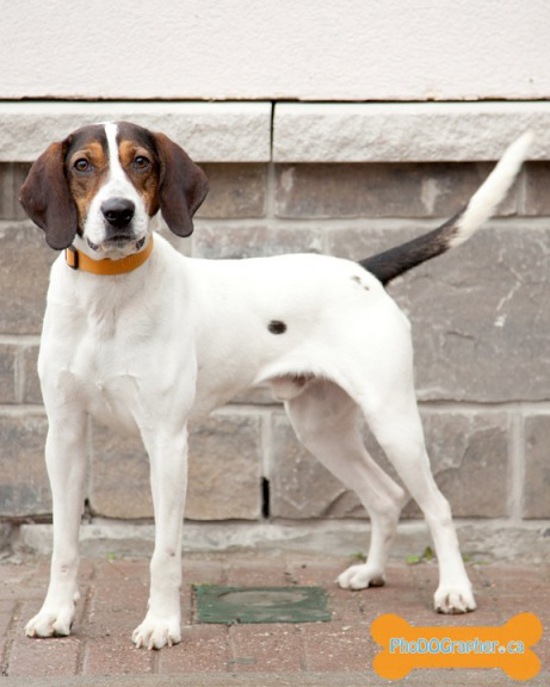 Happy Monday everyone! I know, I know, it's not everybody's favourite day of the week, so let's make it a little brighter in true Pawsh fashion and share this week's dog in need's foster profile. Allow me to introduce Loni, a gentle guy who is looking for a forever home. Read on for his entire story!

STORY: Loni is originally from Kentucky. He was a stray and eventually ended up in a shelter. Thankfully he made his way to Canada and is now waiting for his forever home. Loni is a true walker hound. He's curious and eager to please and he has an adorable bark that sounds something like a seal. He's a beautiful dog.
FAVE GAME: Loni loves to play with any type of ball that squeaks! And he also acts like an annoying little brother to the older dog in the house, taking a certain amount and glee in being a bit of an adorable pest.
FAVE SNACK: Loni loves milk bones and rawhide bones keep this mischievous little dog occupied.
BIGGEST FEAR: Loni doesn't like being excluded, left behind or startled. Being a stray, he may have been unpleasantly awoken, so it's best to ensure he's awake before interacting, kind of like me before coffee!
FUNNIEST QUIRK: He'll find somewhere to bury anything, even if its just blankets he's piled up or a couch cushion he's moved.
CATCHPHRASE: Big love, lots of snuggles in a cute little package! And a tail that could provide hydro for a block!
If you would like to learn more about Loni or any of the other dog's in need at Hopeful Hearts, please email adopting@hopefulhearts.ca.
PAWSH PERKS: Did you see our newest cover?