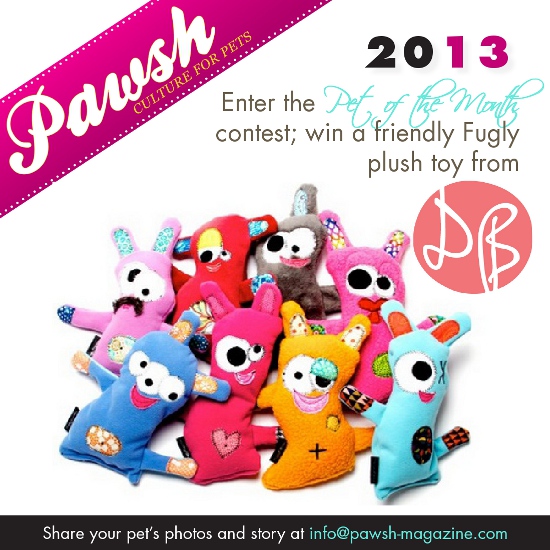 I'm really excited about March's Pet of the Month prize from Domestic Beast, because it is colourful, hilarious and quirky (in fact Rory and I mentioned these items in our last edition because we love them so much!) Presenting Fugly Friends!

Why we love it:
Each Fugly Friend is unique and handmade, with just the right amount of silliness to put a smile on your face and a wag in your dog's tail. Honestly, we have yet to see a dog that doesn't love these toys.
They're handcrafted from tightly woven Polartec® fleece, with a triple stitched seam. And since no fabric is 100% indestructible to some pups, there's a plush heart hidden in each toy with a secret fortune on the outside and a Kong squeaker on the inside. (Retail value $22.)
One lucky pup will win their very own Fugly Friend (colour to be a surprise!) All you have to do is enter the March Pet of the Month contest for your chance to win! Simply email us your dog's photo and name to info@pawsh-magazine.com before March 26th and you could win and new pal!
Oh, and before I forget, the February 2013 Pet of the Month winner is….OSCAR & PRADA! Congratulations! Please email Pawsh to collect your prize! Thank you everyone for the incredible voter turn out and for making this contest such fun each month!