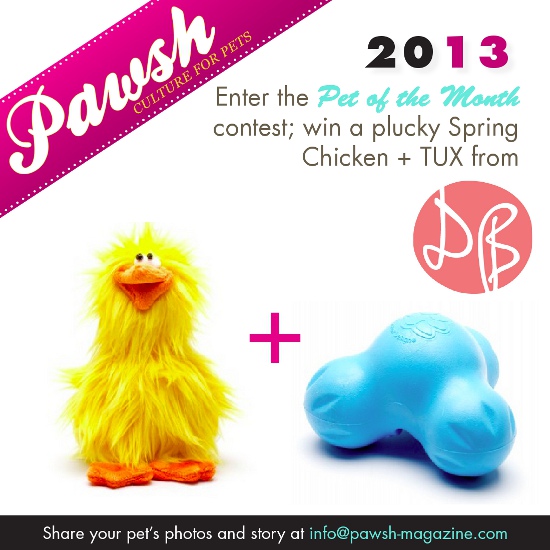 How is it possible that it is the middle of July already? Worse still I still haven't announced the July Pet of the Month contest prize (or should I say prizes!) from our friends at Domestic Beast. Quick, quick, click through to find out the complete scoop!
This month one lucky pet will win TWO fabulous modern toys valued at $31! Aren't they adorable?
WHY WE LOVE THESE GUYS
Tux: This treat toy is the perfect combination of supremely stuffable and supremely tossable. Made of guaranteed-tough Zogoflex®, it's a toy as close to indestructible as you'll find. Simply stuff your dog's favorite treat into the center of Tux and let the fun begin.
Spring Chicken: Whether your dog is a spring chicken or has been around the block a few times, this crazy bird will make him feel like a puppy again. Crafted with multiple textures and a long-lasting squeaker, the Spring Chicken is designed to entertain your pooch for hours.
If you think your dog would love these toys, be sure to send us their photo to info@pawsh-magazine.com by July 28th for a chance to win! Thanks for playing and good luck! xo