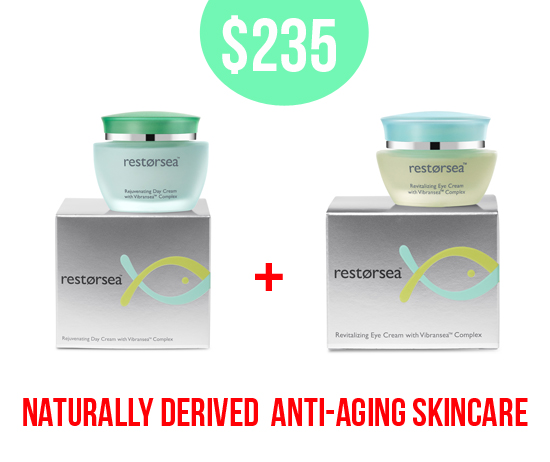 Today we have a truly fabulous giveaway for anyone who loves naturally-derived beauty products that are free of harmful chemicals and parabens, and not tested on animals. Presenting the Restorea Starter Kit, valued at $235.

From Restorsea:
"Restorsea is a naturally-derived, anti-aging skincare line made from a proprietary enzyme that is extracted from the hatching fluid of baby salmon. All Restorsea products are formulated with ingredients found in nature. In fact, Restorsea's proprietary active ingredient, the enzyme, Aquabeautine XL®, is extracted from the post-hatching water of Norwegian baby salmon. No salmon are harmed as the water is collected after they swim away.
Restorsea offers what so many women are looking for: more radiant, smooth and youthful-looking skin."
The Starter Kit contains Restorsea's Revitalizing Eye Cream and Rejuvenating Day Cream — a powerful combination that improves the texture and health of your skin. I have personally tried both of these products and was so impressed by their effects that they are now a part of my regular skin care regiment.
I specifically fell in love with the eyecream. It beautifully combats dark circles and in a few short weeks I saw a significant improvement.
(Open to North American readers only) One lucky reader will win the complete Restorsea Starter Kit today!
To enter you simply need to do the following THREE things!
1. Leave a comment on today's post telling us why you would like to win the Restorsea Starter Kit. Perhaps you've been searching for a cream that suits your skin type. Perhaps you are passionate about products that are chemical free and not tested on animals. Perhaps you are just curious. Whatever your reason, let us hear it!
2. TWEET the following: "I just entered @Pawsh_magazine's giveaway for a chance to win these awesome naturally-derived skincare products valued at $235  http://bit.ly/112PSIh."
3. INSTAGRAM a photo of your pet's furry face using the hashtag #PawshPets.
Do those three simple things and you're in! This starter kit is seriously fantastic, so here's wishing you the best of luck today! Oh, and if you'd like to pick up a few Restorsea goodies for yourself or friends, they are now available in Canada here. xo
PAWSH PERKS:  A guide to natural beauty products.