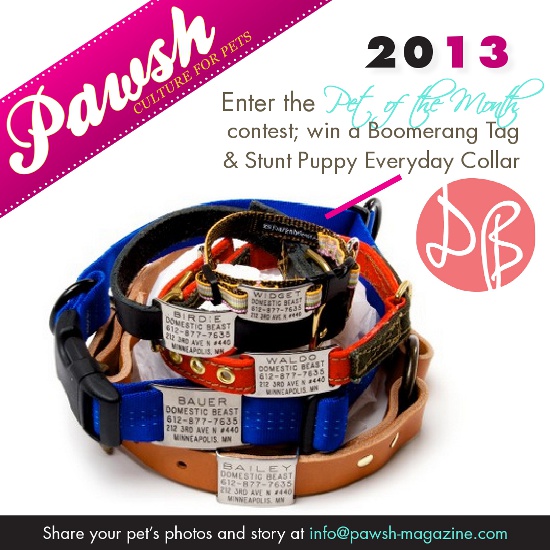 Guess what? We're announcing the September Pet of the Month nominees today as well as the awesome new prize for the October contest from our friends at Domestic Beast!
Up for grabs this October, a beautiful Stunt Puppy Everyday collar and a Boomerang Collartag that is practically impossible to lose.
BOOMERANG COLLARTAG
Choice of size, $15
WHY WE LOVE IT
Boomerang CollarTags are some of the best we've found for staying put, in fact, they're guaranteed not to fall off – which is, after all, the point of any id tag. We also like the fact that they don't get caught on thing, fall in your dog's food dish or make noise.
STUNT PUPPY EVERYDAY COLLAR
Choice of color, $17
WHY WE LOVE IT
When it comes to an everyday collar, you want soft, smooth and comfortable. This one is all that and more. Made with Sterling Rope's One Inch Tech Tape® tubular webbing, it won't pinch the skin or mat the hair. Finished with best-in-class Duraflex® buckles and D-rings for security and peace of mind. It's supple and silky for sure.
HOW CAN I WIN?
To enter, simply email a photo or two of your furry friend to us at info@pawsh-magazine.com before October 25th! Bonus points if your furry friend is sporting their Halloween costume!
VOTE FOR SEPTEMBER'S PET OF THE MONTH!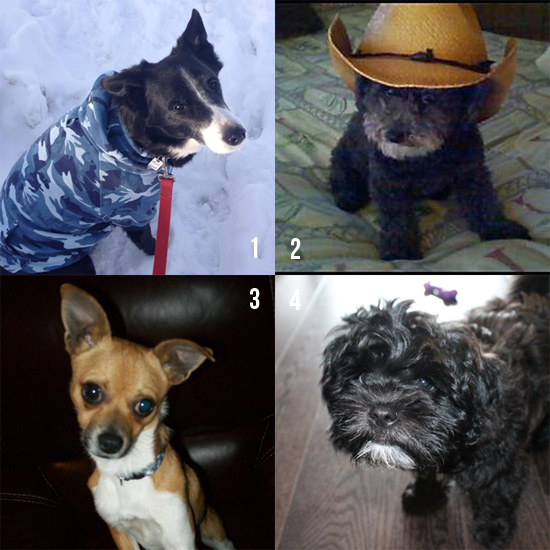 Don't forget to vote for September's winner though! Here are the four furry nominees!
1.  Pepper
2. Bubba
3.  Charlie
4. Chewy
Vote for your favourite by writing their name on our Facebook Wall before October 3rd at midnight. The pup with the most votes will win this September prize! Good luck everyone!