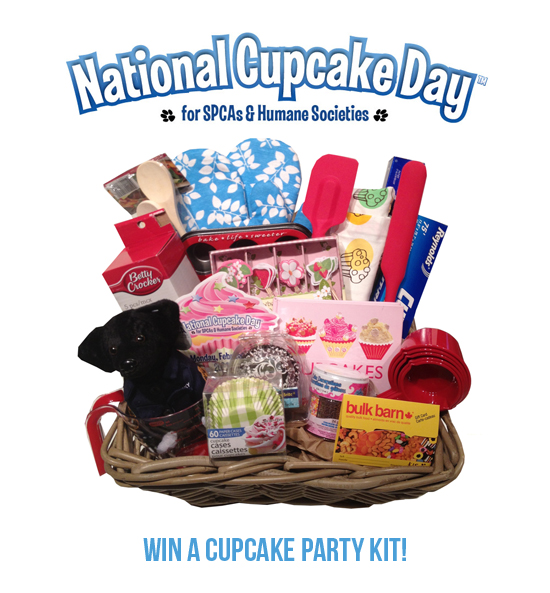 Canadians are invited to "bake a difference" through the second annual National Cupcake Day™ to benefit SPCAs and Humane Societies across Canada. Everyone is encouraged to register for free online NOW at http://www.nationalcupcakeday.ca, collect donations through their "Online Bakery", bake cupcakes and host a National Cupcake Day™ party for their friends, family or colleagues on National Cupcake Day, taking place February 24th, 2014.
"It's amazing the power a cupcake can hold," says Alison Cross, Director, Marketing and Communications for Ontario SPCA, Provincial Office.
"The response to last year's launch event was phenomenal and this year we encourage bakers and animal lovers across the country to get involved in National Cupcake Day™.
It's a fun event that makes a life-saving difference in the lives of animals who desperately need our help, and it's a sweet way to show your support."
HOW DO I PARTICIPATE IN NATIONAL CUPCAKE DAY?
1. Beginning January 6th, register for FREE at http://www.nationalcupcakeday.ca
2. You will receive a FREE Cupcake Host Welcome Package in the mail, which includes a poster, sticker, balloons, fundraising guide and recipes to get you started
3. Personalize your National Cupcake Day™ Online Bakery page and send it out to everyone you know
4. Encourage friends and family to support you by donating online
5. Plan your National Cupcake Day™ Party for home, work, school or wherever you think people would love to eat your cupcakes
6. Bake, decorate, eat and share delicious cupcakes to raise funds for Canada's SPCAs and Humane Societies
7. Collect and forward funds to SPCAs and Humane Societies in your community (visit http://www.nationalcupcakeday.ca for a list of who's participating)
WIN A CUPCAKE PARTY KIT!
To help kick off your own sweet National Cupcake Day, we're giving away a cupcake party kit this week! This beauty has everything you could possibly need; cupcake decorations, cupcake skirts, spatulas, oven mitts, muffin tins, measuring cups and all sorts of other sweet treats so you can make the best cupcakes possible to raise money for our furry friends!
TO ENTER…
1.  Leave a comment on this blog post sharing your all-time favourite cupcake flavour!
A winner will be selected at random tomorrow afternoon! Good luck everyone and help spread the word about this wonderful initiative to raise funds for animals in need. After all, who doesn't love a cupcake?