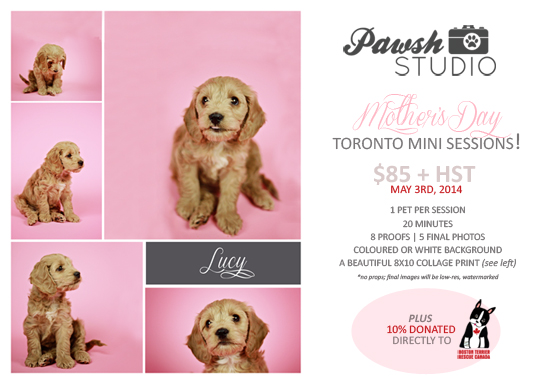 Well… a bit of big news — we've added a new member to the Pawsh family. Allow me to introduce Lucy, a witty little poodle-mix gal, filled with spunk and character, who recently came into my life. Rory and I feel so lucky to have her bright, bubbly personality as part of our pack and to celebrate her arrival we thought we'd host a brand new batch of Mini Studio Sessions for other pet parents!
It's so important to document a pet's life, as they do change from year to year and a dog has so many different facial expressions and quirks — little details that we hope to cherish forever!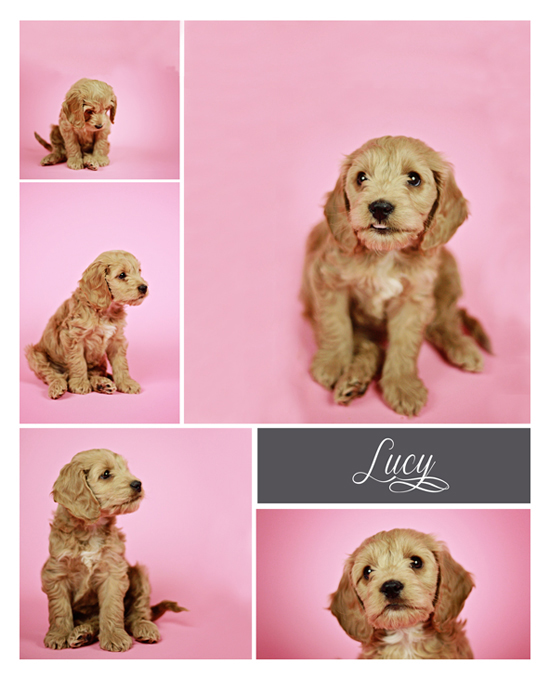 So these Mother's Day Studio Mini Sessions will offer the following:
1 pet per session
20 minute of shoot time
a beautiful pink or classic white background
8 proofs | 5 final photos (low-res, tastefully watermarked)
a stunning 8 x 10 collage print showcasing your pet's name and your five photos (see above)
PLUS 10% of sitting fee proceeds will be donated to Boston Terrier Rescue Canada — an amazing group that goes above and beyond to place Boston Terriers in need with loving, devoted families.
BUT THAT'S NOT ALL!
Although this event will be held at Pawsh Studio on May 3rd, I am also opening it up for the entire month of May with the purchase of a gift card. This means that you can purchase an exclusive Mother's Day Studio Mini Session as a gift card to give on Mother's Day (in other words, must purchase it before May 12th, 2014) and then come in for your session at a time that is convenient for you before May 30th, 2014.
I for one feel so fortunate to be able to document little Lucy's clumsy journey through puppyhood — something I wasn't able to do with Miss Rory. I know these are photos that I will treasure for years and years to come and I feel so lucky to be able to help other pet parents do the same.
DON'T WAIT TO BOOK!
Don't wait to book your Mother's Day Studio Mini Session! These will be the last mini sessions we host until fall.