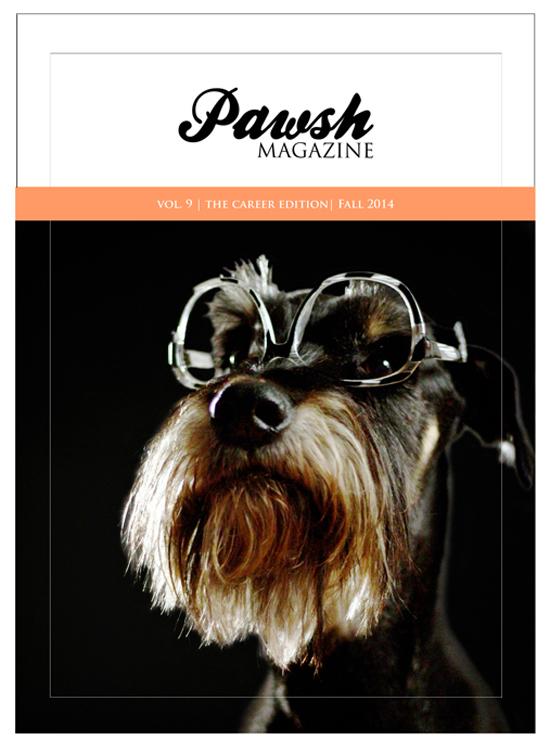 I think I've written this blog post about a dozen times, trying to find the right words to express what I've been feeling about Pawsh lately, its future, its current path and how to make it better. Well, I have at last figured it out and today I am ready to share…
In short, I have been finding myself less and less inspired to write about pet matters – not because I don't care about that sort of thing anymore, but because it's all feeling a bit 'been done before' and exhausted.
Combine that with the enormous task of constantly generating double the content (original content for the blog and original content for the magazine, which takes 3 or 4 months to produce a single issue) and one is probably going to start feeling a bit flat, unenthusiastic and drained. That's where I've been lately.
I love Pawsh. What started off as a little portfolio project took on an amazing life of its own. A loving, supportive and incredibly inspiring community of pet lovers gathered around it, allowing Pawsh to diversify, open a little print shop and launch its sister company, Pawsh Studio. For that I am deeply grateful. But the time has come for something to change…for something new…
The thing that needs to change
For those of you who don't already know, I run a second business, LLB Creative, where I focus on providing memorable lifestyle photography, photo editing and custom writing services. But there as well I have been feeling like something is off and after a great deal of soul-searching, scribbling in a journal and self-reflection I have deduced that the issue is writing burn out.
I'm not in love with writing anymore – or at least, I'm not in love with the type or volume of writing I'm doing anymore. I deeply miss composing beautiful, poetic lines wherein the words seem to dance off one another to bring forth an otherwise intangible idea. I miss creating characters with words and getting to know them through draft after draft of fantastically frustrating manuscript. I miss letting my imagination take control of the ink and run away with it in any direction it chooses. These are qualities that a journalistic approach to writing just doesn't allow for. You can be creative with your words, yes, but within reason so as not to lose the important information you need convey.
So, after a great deal of thought, I have decided to reduce the amount of writing I do professionally, to take back a portion of my words to be something just for me to work on and enjoy in private for a little while.
I still absolutely want to tell pet-inspired stories, but I wish to do so through photography and new, refined pet articles that focus upon quality over quantity. In short, inspired in many ways by our pet friends, I am adopting a new, simpler approach to Pawsh in an effort to improve its meaningfulness.
What does this mean for Pawsh?
Well, a big change. In all honesty I'm nervous to share these changes with you, because really, who likes change? But I hope that you believe me when I say I really do believe these changes will help to make Pawsh even better, more sustainable and more meaningful in the long run.
Change #1: Digital subscriptions
Pawsh Magazine is undergoing an exciting redesign (it's time to refresh our look and you can see a working sample cover above!). The magazine will continue to be published 2-3 times per year, but will focus on fewer, but fuller articles and extraordinary photo essays. Don`t worry, the favourite features will still be in place, but we will be loosing a few of the elective pieces and instead swapping in a few new, very different pieces of content.
Also moving forward the magazine will only be available as a digital download (for a small fee of $3.99/issue). This means you will have the convenience of storing it on your smartphone, computer or tablet to read and reference whenever you'd like instead of having to come back to the Pawsh website every time you want to find something. Plus it looks really pretty on a tablet.
It is my hope that this change will make reading the magazine more convenient and enjoyable. This will also allow us the ability to improve the magazine's overall content; the final publication will be akin to a digital fine art coffee table book, something that will add warmth, humour and inspiration to your home. This isn't a 'cash grab' – although I'm sure some people will think it is. It is an effort to grow and remain sustainable without sacrificing quality.
Change #2: Blog frequency
The Pawsh blog will also be enduring some changes. It will be transitioning from a daily blog Monday to Friday to being updated three times per week. Again, I'm operating upon the 'less is more' belief. Allowing myself two days off a work week from blogging will allow for the creation of more detailed, engaging and meaningful posts so that every time you tune into the Pawsh blog you'll discover something wonderful and worthwhile relating to pets!
In closing…
Pawsh's overall mission to celebrate a life lived will with pets will remain in tact. Although the format and content will be shifting a little, the focus and intention of Pawsh will not. It is my hope that this new format will allow Pawsh to do something fresh and new in the pet world, and create something meaningful that can be enjoyed by pet lovers of all ages.
So there it is! Thank you so much for your continued support as Pawsh takes its next steps along this new path. I hope you still like what Pawsh stands for and the new manner in which we're planning to embrace this subject matter.
Your support and passion for pets remains to this day to be our inspirational motivation and I hope more than anything that these new steps will deliver something wonderful and new for you to enjoy.
{Photography by Pawsh Studio. Cover dog model, Bitzer}