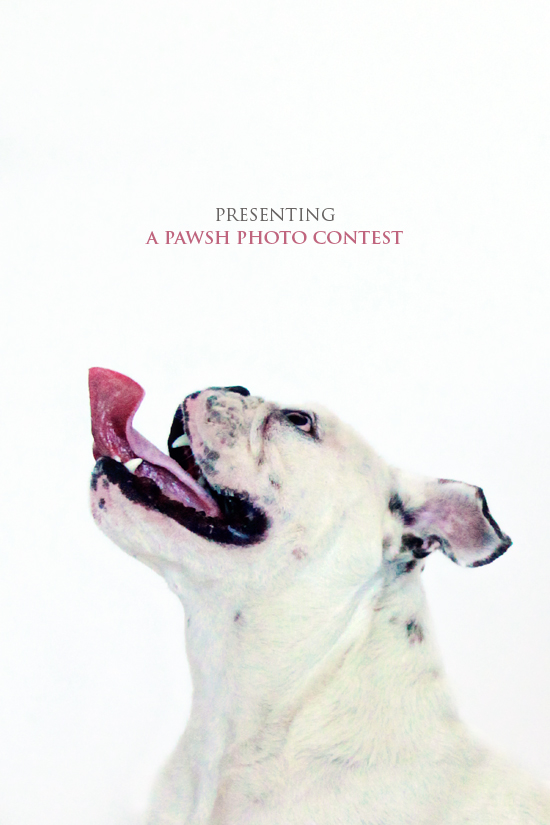 Exciting news ladies and gentlemen! Pawsh Magazine is hosting a spectacular photo contest, called Pawsh Showcase, which offers over $800 in prizes PLUS the chance to be published in the Fall 2014 edition of Pawsh Magazine! One lucky winner will even have their photo published on the cover of the next Pawsh Magazine edition! The contest is designed to showcase the best of pet photography from all levels to celebrate the wonderful artistry, emotion and creativity that exists in this particular genre of photo taking!
WHAT IT'S ALL ABOUT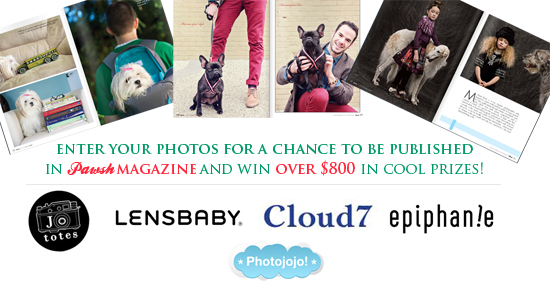 Pawsh Showcase is a beautifully curated and expertly designed extended feature section of Pawsh Magazine dedicated solely to showcasing the most creative, artistic, moving and mesmerizing animal photography from all over the world. Pet photographers rarely get the kind of recognition they deserve or the opportunities to have their breathtaking work published in a high-end format; enter Pawsh Showcase.
Part photography contest, part artist exhibition, the Pawsh Showcase feature in Pawsh Magazine will offer pet and animal photographers a unique chance to connect with their inner artistry, challenge themselves in the realm of shooting with our furry friends and share with a devoted, pet-loving audience how moving and emotional animal photography can be.
WHO CAN ENTER
The contest is open to photographers of all levels, from seasoned professionals to at-home shutterbugs. Preference, however, will be given to those photographs that have not been published elsewhere (including social media sites and personal blogs).
WHAT WE'RE LOOKING FOR
We're looking for more than just a cute photograph. We're looking for an incredible photograph that tells a story, expresses a mood, ignites the imagination and makes the viewer stop and stare while evoking emotion. We're looking for artistry that pushes boundaries, work that captures unbelievable moments and submissions that make the heart skip a beat while sharing a message.
FIRST PRIZE!
The first place winner, the top dog, the best entry of the batch will receive an amazing prize package that includes the following: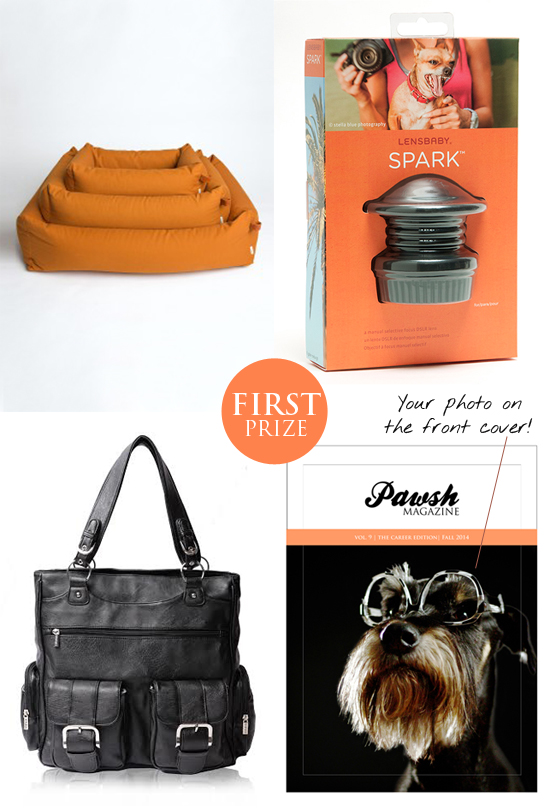 1. A gorgeous Madison camera bag from Epiphanie Bags — luxuriously crafted so you can carry your shooting gear in style
2. A SPARK tilt shift lens from Lensbaby — a spectacular lens that adds a beautiful dimension to your artist's eye
3. A 300€ ($400US)  store credit from Cloud 7 — a spectacular store for dogs!
4. Their photo published on the FRONT COVER of Pawsh Magazine Fall 2014
5. A feature about you, your work and dog published in Pawsh Magazine Fall 2014
6. A free digital copy of Pawsh Magazine Fall 2014
SECOND PRIZE!
The second place winner will also receive some fantastic prizes! Including: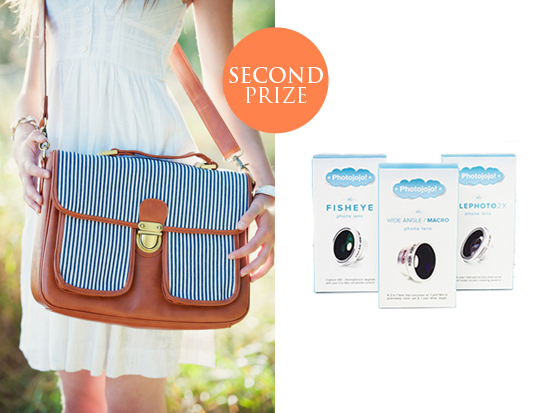 1. A stunning, luxury Georgia Nautical camera bag from Jo Totes
2. A set of 3 cell phone lenses (wide-angle/macro, telephoto and fisheye) suitable for Apple and Android devices from PhotoJoJo to take your Instagramming skills to a whole new level
3. Their image published on the back cover of Pawsh Magazine 2014
4. A free copy of Pawsh Magazine Fall 2014
RUNNER UPS
There will be eight runner ups selected! These lucky winners will have their work published in Pawsh Showcase and receive a FREE digital copy of the Fall 2014 Edition of Pawsh Magazine.
ABOUT THE ENTRY FEE
A small entry fee of $10 per submission is required for all photography contest submissions. This fee exists for the same reason an entry fee is required for any photography contest. In short, think of the entry fee as a small cost to enter a photography contest for a chance to win great prizes, be published and show off your photography to a wide,  pet-loving audience!
HOW TO ENTER!
Complete contest details, submission guidelines, tips/advice, submission form and FAQs about this photo contest can be found here. The submission period closes August 20th, 2014 at midnight, after which the winners will be contacted.
So don't be shy! Grab your camera and your favourite furry friend and get shooting! PS: If you need some shooting inspiration, don't forget to check out these 9 expert pet photography tips!
***
{Special thanks to our incredible sponsors — Epiphinie, PhotoJoJo, Lensbaby,
Cloud 7 and Jo Totes — for helping to make this contest possible!}