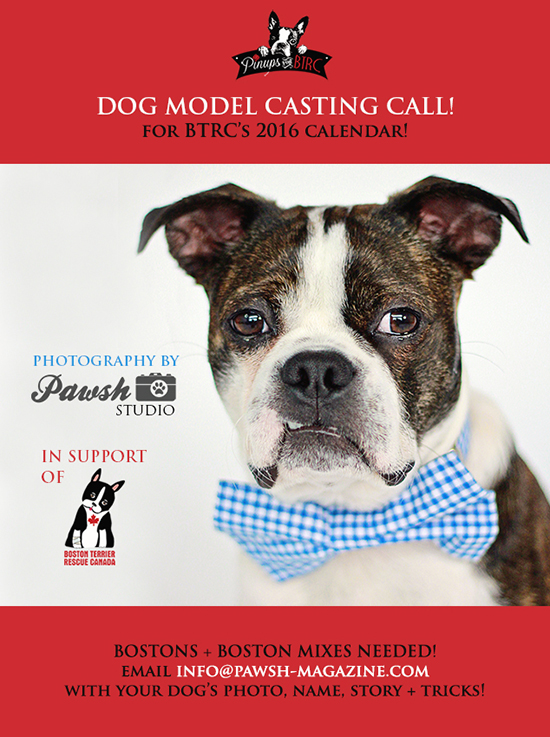 Calling all rescued Boston terriers and Boston terrier mixes! I am really excited to be sharing this project announcement with you all today. Pawsh Studio is partnering with Pinups for Bostons to shoot their 2016 creative calendar, the proceeds of which are ALL donated to Boston Terrier Rescue Canada (BTRC).
For those of you who aren't familiar with BTRC, they are a wonderful registered charity organization with a mission "to provide safe, temporary refuge leading to a loving, permanent home for Boston Terriers through rescue, education, advocacy and compassion." They do incredible work all year round.
In order to make this calendar a reality, however, we need 13 dog models (yep, a baker's dozen of dogs!) So if you have a pup who would be interested in modelling here is what we are looking for:
– Boston Terrier or Boston Terrier mixes, preferably with a rescue story
– dogs who respond well to 'sit' and 'stay' (this doesn't mean dogs who will sit still for hours or anything so drastic. We are merely looking for a 5-10 second stay, if possible)
– all shoots will be taking place in downtown Toronto at Pawsh Studio
– shoots will be commencing in February and will be hosted on Sundays only
Please include in your dog model submission your name, your dog's name/age, a current photo of your dog, a list of their obedience training and a few lines about their story. Submissions can be made to info@pawsh-magazine.com. Only successful applicants will be contacted.
These shoots are going to be a lot of fun! Your pup will be spoiled rotten with treats and bellyrubs and it is all for a truly great cause!
PAWSH PERK: Here is last year's BTRC calendar if you're interested!