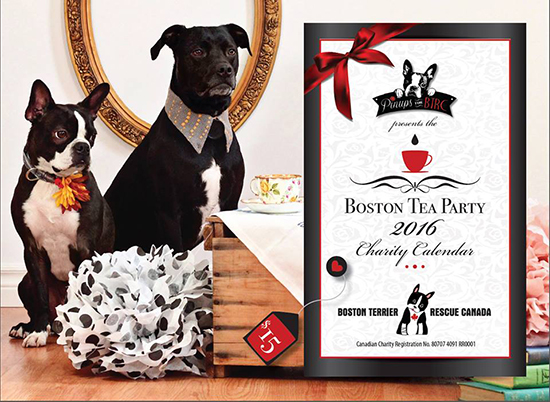 Ladies and gentlemen the 2016 Pinups for BTRC Charity Calendar is now available for purchase! For a $15 donation (all proceeds of which will be donated to Boston Terrier Rescue Canada) you can have your very own copy of this tea-party inspired calendar!
This was a really fun project to creatively direct and photograph — and for such a great cause! Inside you'll find 12 different tea-party inspired vignettes of little Boston Terriers and mixes getting into all sorts of mischief!
Tremendous thanks needs to go out to my fantastic assistants, Sondra and Sloan, who helped to wrangle our 13 dog models and prop hunt. Also thank you to Simple Sugar Design, Bark'n Up The Green Tree, Pomtree, Bowzer Box, Amelia Biscuits and Julie's Elegant Crafts for donating items for our set dressings.
Thank you to Kim and Laura from Pinups for BTRC for a) inviting me to shoot this project and b) being so awesome to work with on all the admin and design aspects (Laura Mark is the wonderful designer for this calendar!)
And lastly, of course, thank you to our wonderful dog models without whom this calendar could not exist! Your fine art print bundles (if you opted in for one) will be mailed out next week to you!
PURCHASE YOUR COPY OF THE
2016 PINUPS FOR BTRC CHARITY CALENDAR
RIGHT HERE!