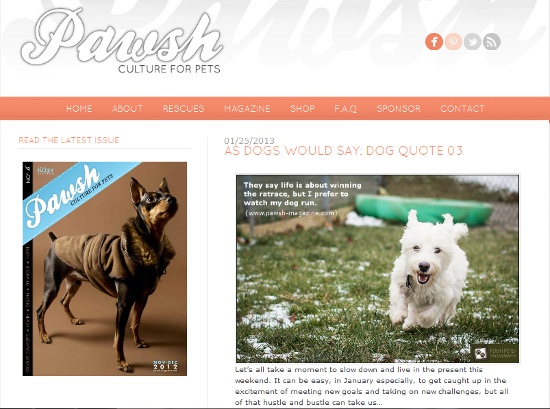 Today I would like to begin by sending a huge thank you over to Shine Creative, a lovely, personable design boutique without whom this new website would not be possible. We've worked on making the site more user-friendly so that you can better find everything you need for your furball, but I'd like to bring your attention to a few specific improvements…

Firstly, there is a new 'Rescue' page on Pawsh, which I am so excited about. This is a place that will feature animal welfare groups that Pawsh has personally worked with and supports. There, we will be featuring adoptables from these organizations on a regular basis (coming soon!) It is my hope that this page will become a trusted place that can help connect great families with great rescue groups.
*If you know of a great rescue group Pawsh should know about, please feel free to introduce us!
Secondly, there is a 'Magazine' page, devoted entirely to the magazine side of Pawsh. There you can flip through the latest issue and browse past issues without ever having to leave the Pawsh site. Hopefully it will help you to find useful articles and inspiring photoshoots of yore.
Thirdly, there is now a 'Pawsh Shop!' This is a place where Pawsh's projects, like Take Paws, will be available for purchase. We have a few more things in the works that will be added to the shop soon and everything that shows up in that space will be making a donation from each sale to a reputable rescue. That's a Pawsh promise!
We've also made it much easier to comment on blog posts (no more pesky signing in with various IDs) and have streamlined our contact information and submission guidelines so hopefully it is all easier to navigate.
Thank you so much for your patience today throughout this process. There are still a few things being worked out, but we're on it! Please feel free to point anything out if you happen upon it. Reworking a website is a great deal of work, so if you think something has been missed I would love your feedback!
Again, huge thank you to Shine Creative for their incredible design services! If you are in need of a website, a logo or any other sort of design project I personally would highly recommend them! Be sure to follow them on TWITTER and FACEBOOK too!
Welcome to the new Pawsh website. I hope you like it. xo