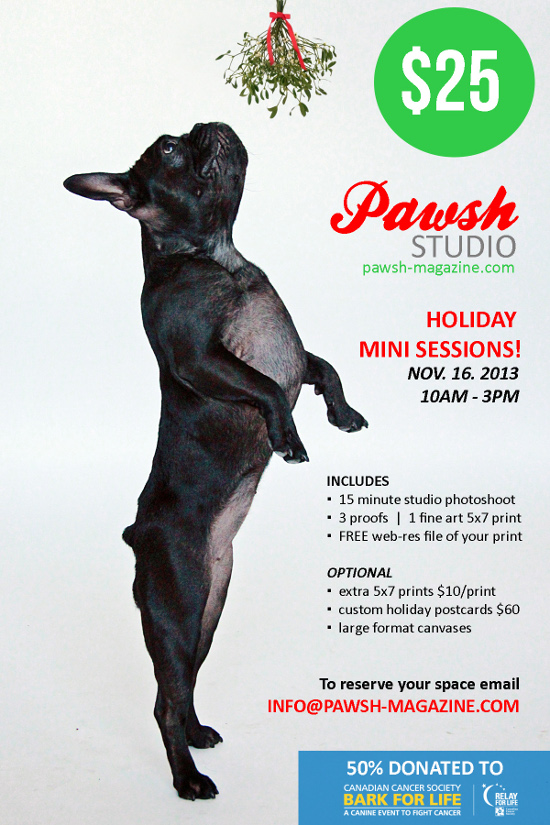 Christmas is coming and while we usually don't talk about anything Christmas related here on Pawsh until December 1st (we believe in trying to preserve the magic of the season by not talking about it the day after Halloween or even in November…), this year I am making a wee exception to bring you mini holiday pet photo sessions.
This photo event is to raise money for Bark For Life — a national initiative by The Canadian Cancer Society that celebrates the relationship cancer survivors and patients have with their four-legged friends; a way to recognize that dogs, in many ways, are caregivers during a cancer journey.
Did you know, according to veterinary texts, that approximately 4 million pets develop cancer each year in North America? And I'm sure all of you, like myself, care deeply about somebody who is battling with cancer. So we are trying to lend a paw this season!
Here is how the mini holiday pet sessions will work. There is a sitting fee of $25 for a 15 minute shoot (that doesn't sound like a lot, but 15 minutes is all I need to get some truly chic photos of your furball). I will have a selection of chic, tasteful holiday props on hand to emphasize the holiday spirit.
You will then be given access to a private gallery with 3 proofs to choose from and your selection will become a fine art print. Additional prints are available for an additional fee, as are large format canvases and even holiday postcards if you wish!
The possibilities abound when you sign up for a mini pet session and this holiday themed opportunity is a great way to celebrate the season, do some good and receive an artistic photograph that will be treasured forever.
These photo sessions will be held in Toronto, Canada on November 16th, 2013. Space is limited and assigned on a first come, first serve basis.
To reserve your spot, please email info@pawsh-magazine.com with "Holiday Mini Session" in the subject line or contact me through this form.
I can't wait to meet you and your furkids and celebrate the upcoming festive season with you! Any questions, please feel free to pepper me with them via email or in the comments section below! xo