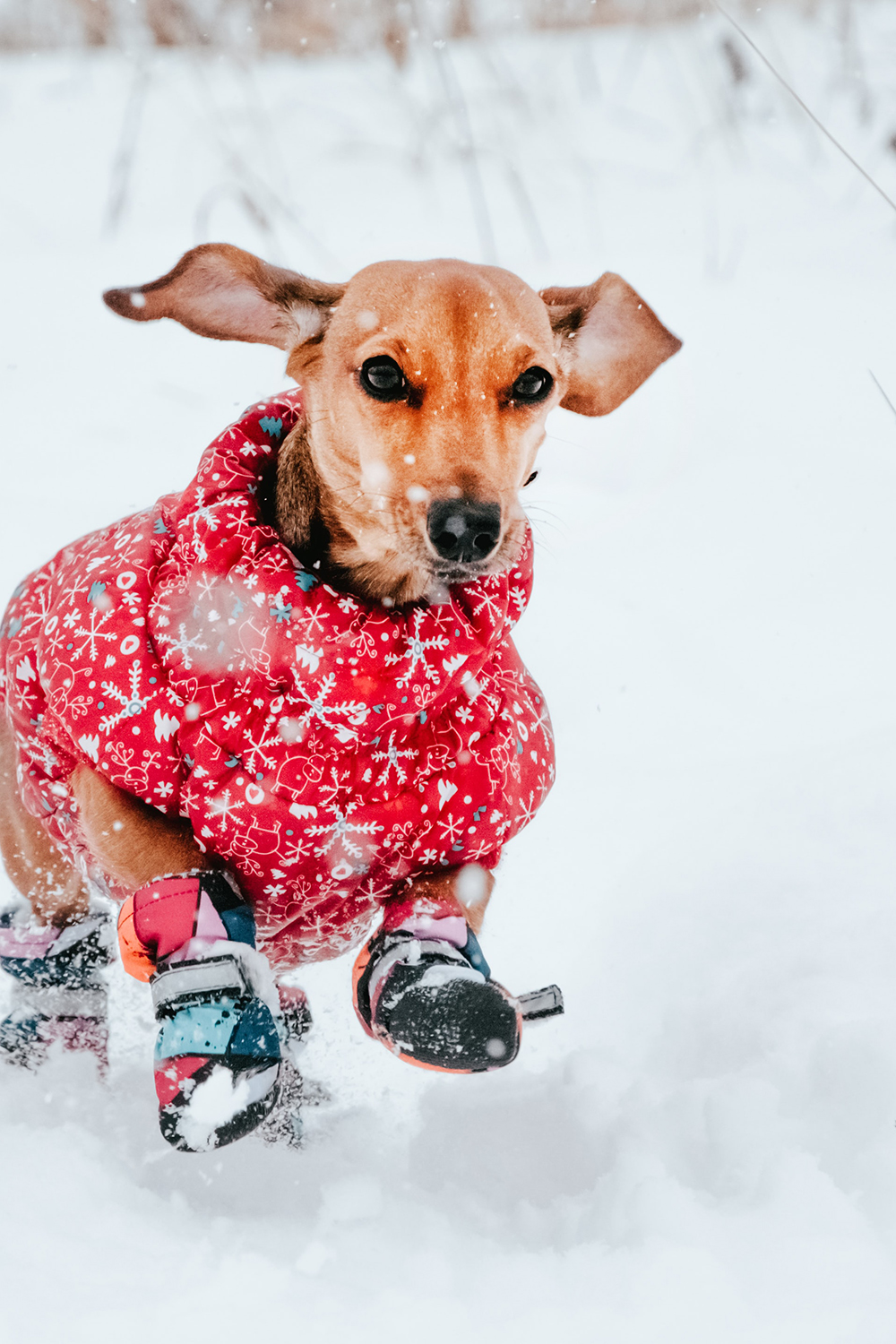 Nowadays we've seen every type of doggie-fashion imaginable, from festive Santa suits to itsy-bitsy bathrobes. So it's easy to dismiss the notion of canine footwear as just another trend. After all, there are enough froufrou accessories out there to make any dog howl with embarrassment. However, the benefits of using booties might be something to consider for certain owners. So how do you know if your pooch should be rocking the latest paw-wear? Do dogs really need boots? Let's chat!
DO DOGS NEED BOOTS? WHAT ARE THE BENEFITS?
Unless you're trying to one-up Tinkerbell in a four-legged fashion show, it's all about making your pup comfortable by providing protection, and it's fairly easy to tell when this is necessary.
Doggie-shoes are most useful in regions that experience extreme weather. For example, in the midst of a chilly Canadian winter, you will likely come across plenty of snow and ice as you take your daily strolls. Though the pads of a paw are made of a very thick durable skin, they can still be sensitive to such frigid conditions and are not immune to frostbite either.
If you know your pup well, it's not hard to tell when they're feeling disgruntled. If they frequently stop and lift a paw in the air mid-walk, that's a sure sign they are hurting. In this case you would want to go grab some polar-fleece booties pronto (and it's a bonus if they have rubber-grip bottoms to save your pooch from sliding all over the place). For the city-dog, there's an added benefit to the footwear. Salted walkways are another great enemy to the bare paw and can cause irritation or allergic reactions if not wiped clean after contact. This is all the more reason to bundle up with boots, one less tedious task for you, and a happier dog—nothing wrong with that!
DOG BOOTS ARE SOMETIMES NEEDED BEYOND SNOW
Even if you live in an area unknown to snowflakes, there still may be some good reasons to think about covering up your dog's tootsies. Just ask Rockie, a perky black Doberman Pinscher who belongs to Arizona Native, Savannah Crossen. These days the pair reside in Toronto where Crossen works as a stylist at a downtown salon. However, two summers ago Crossen returned to her hometown of Avondale Arizona for a couple months to reconnect with family.
"Rockie had never experienced the brutal temperatures of a dessert climate; he was totally thrown for a loop," says Crossen. "Where we were staying, there really wasn't much grass or shade at all so the plain heat was a lot for him to bear, especially with his shiny black coat. There were also the cactus thorns that would prick his poor little paws."
BOOTS TAKE SOME TIME TO GET USED TO
After a few weeks of having to bribe Rockie out of the air-conditioned home each day for a bit of exercise, it was obvious that he wasn't acclimatizing very well. Crossen noticed his paws becoming very rough and beginning to crack in some spots. Seeking a solution, she invested in a pair of Bark'n Boots and some petroleum jelly to sooth his aching paws.
Crossen reminisces on her pup's initial reaction to the foreign foot-gear. "It was a truly hilarious sight," laughs Crossen. Truth be told it often is with most first time canine booty wearers. In all seriousness though, the boots proved to be highly practical. Rockie soon adjusted to his new style, and seemed a lot more comfortable as he ventured out on longer and longer excursions. Crossen says she still makes use of them today during the frosty Toronto winters and on those wet mucky days, just to keep things clean. Now that's versatility!
So they help in the heat and ward off the cold, they can prevent fungal infections from moisture, protect an injured paw, and they even keep your place dirt free. Clearly the concept of doggie booties has become much more than frills and fashion. Having said that, they do look pretty cute in their baby-like sizes and there are many different types. Just look at Muttluks, a Canadian brand, that blends style and practicality – the ultimate bargain these days.
BUT DOGS DON'T NEED FOOTWEAR ALL THE TIME
A lot of the time, however, the majority of dogs can manage just fine without shoes. Unless their paws are facing something harsh, it is probably best to let them go 'au natural.' Constant unnecessary covering runs the risk of preventing your dog's nails from being filed down by the pavement. As a result, this can cause discomfort.
All in all, it really comes down to your judgment as an owner and the variety of weather elements you and your pet have to contend with throughout the course of a year. It is truly great to have such a wide selection of products out there to choose from, if indeed paw-wear is the way to go for you. However, for the sake of animal rights, I suggest steering clear of the high heels.
___
{CREDITS: Written by Hayley Dawson | Photography by Levovna}