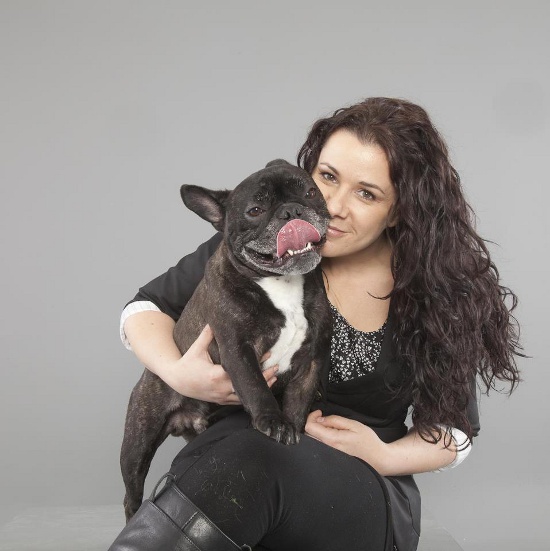 Krystine May is the founder and lead designer of Babies and Beasts – an adorable Toronto-based clothing company specializing in dog and children's outerwear. Inspired by her dashing French bulldogs, Tank and Pepper, Krystine has been the featured doggy designer at the 2011 Paws for the Cause Toronto charity event and has been featured on Pet Fashion (tv show) twice.
Things have come along way since November 2011 when Babies and Beasts first opened for business and will be appearing on Dragon's Den this weekend. I chatted with Krystine about all of the excitement and here are her wonderful insights!

1) What inspired your business?
Tank, my first Frenchie, inspired me to start the business primarily, but the many pet owners I talked to those first two years I had him also had a big effect on my decision making process.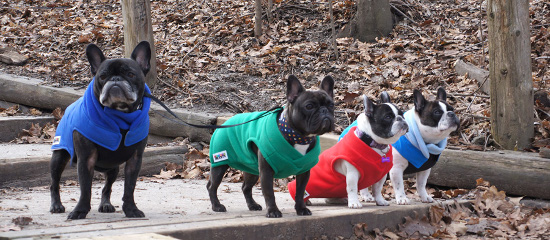 I grew up in the country and always had dogs, mostly larger dogs like German Shepherds and hounds. They never needed outerwear so when I got Tank it never even occurred to me that I'd need a coat for him. Well Tank sure showed me! As soon as it rained or got cold he refused to step outside. I had to laugh really. The very first thing I made him was a leg I cut off the bottom of some old track pants with two slits for his legs to go through. Out he went into the snow no problem.
I quickly realized after hitting a few different pet stores to get something proper that nothing fit him. If it fit around his chest it was way too long, and if it was the right length is wasn't fitting anywhere else. We attend a French Bulldog Meet-up group in the city and interact with a lot of other pet owners at dog parks. I started asking other Bulldog/Pug owners what they were doing and they all seemed to have the same problem; they couldn't find anything decent that fit.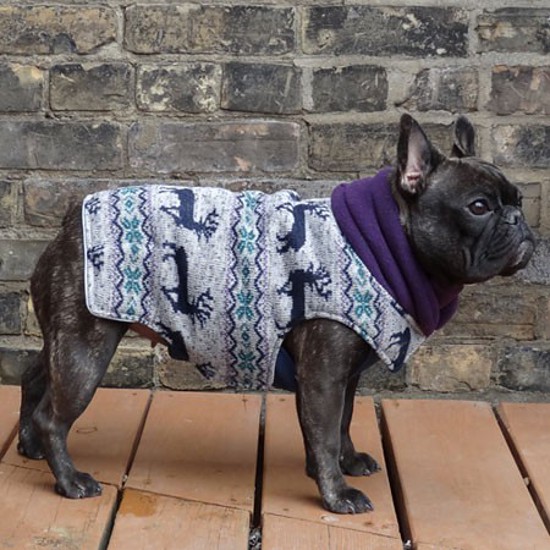 2) So you went into problem-solving mode?
That Christmas I sat down with my Mom and a pattern I bought that wasn't Tank's size. We made him a coat by customizing the pattern. It wasn't anything fancy but it fit and was warm and waterproof. Everywhere we went that winter people with similar dogs would stop us and ask where I got the coat? I would say I made it and they would say I know this sounds strange but can you make me one because I can't find anything to fit my dog!
That following winter I was in a place seeking change both personally and professionally. I kept thinking about all the conversations I'd had with dog owners and sat down with a pencil and sketched out some coat ideas. A few weeks later I hired a pattern-maker and the two of us sat in my studio and took my sketches to patterns and working prototypes. I built my website and did all the graphics and launched the business officially at Winter Woofstock in 2011. The rest is history.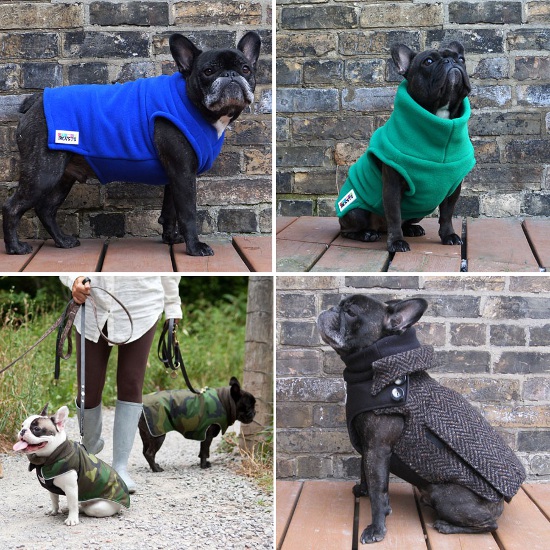 3) Have you always been interested in fashion design?
I had always wanted to get into Fashion Design or Styling but when I went into college I ended up taking Multimedia because I thought it would pay the bills. I never thought I'd end up designing a line of high-end dog outerwear but here I am and I love it. I have the best customers!
4) What sorts of materials do you use?
I use people grade textiles like Gor-tex and Thinsulate. Dogs' body temperatures are higher than ours so you really need breathable waterproof fabrics. The insulation I use is great because it gives them warmth without the bulk, especially for the little guys who are close to the ground. I also use Polartec Fleece at the moment, it's naturally water resistant and works very well to keep the wind out as well as provide warmth.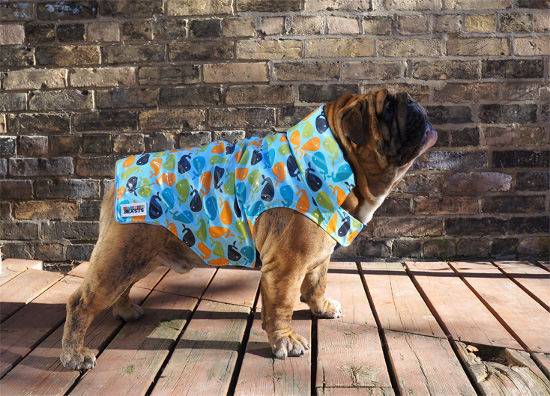 5) What sorts of jackets do you like wearing and how does your personal style influence your designs?
I have two winter jackets, a Peacoat for business meetings and personal outings and my ¾ length winter coat for walks in the park, bad weather and commuting. That's sort of how I approached my dog line. The City Coat is for going out on the town, to see and be seen, and The Latch is for playtime in the park and super cold days.
6) What are some important things owners should keep in mind when choosing a coat for their dog?
If your dog is active and you spend a lot of time in the park, or taking long walks, you need something practical, like The Latch. It's two pieces, and machine washable, so the bottom can be washed separately, and it's made for cold and windy conditions.
If your dog only goes out for social engagements, visiting family and friends, or just takes short walks than The City Coat is still insulated and waterproof but has a lot more style. Its got a nylon bottom you can wash down with a wet soapy cloth. It's all one piece and is Dry Clean only because of the Wool used on the outer of the coat so a bit less practical for the park.
7) What is your favourite coat you've designed and why?
The City Coat's are really my favourite pieces. They are completely original to my line and even though they are more stylish than practical they are still waterproof and insulated. People will stop you everywhere you go!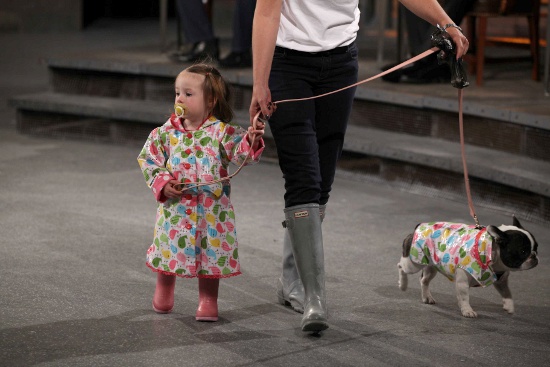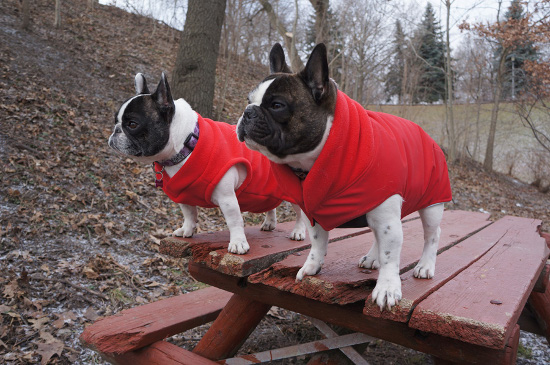 8) What would people be surprised to learn about your job?
I do everything myself for the business except make the products. I maintain the website, do all the photography (sometimes I think it shows but when in startup mode you need to save money where you can), ship the orders, do all the copywriting, design my marketing materials, you name it and I'm most likely taking care of it. When in start-up mode you need to keep operating costs low so it's a must I do as much as I can right now until I find an investor or get a big boost in sales.
I also work full-time at a major bank as a Marketing Manager by day. It can be a lot to juggle sometimes but it's so worth it when you get an email from a happy customer with photos of their dogs in my coats or sweaters telling me how much they love my products. It's very gratifying and keeps me going.
9) Do you have any exciting plans coming up in 2013?
Besides appearing on Dragon's Den this season (March 24th) I am also launching a line of coordinating Raincoats for Dog and Babies and these will be featured on my Dragon's Den pitch. I was trying to get money together to launch more products and expand what sizes I have now to cater to more dog breeds. I'm still looking for an Angel Investor mainly so I can get more sizes and products out there faster than what I'm being able to do on my own.
***

Thank you for chatting with Pawsh today Krystine! Remember to tune into Dragon's Den on CBC March 24th everyone to see Krys, Tank and Pepper face the dragons! (I would be so scared!)