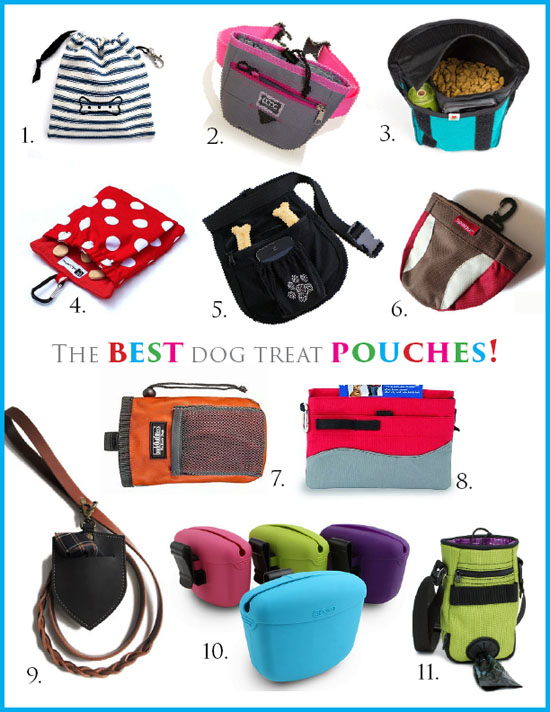 Now that I have two little fur monsters to wrangle on a daily basis, good dog manners have become even more imperative. So I have been doing a great deal of training and retraining with Rory and Lucy, which means I've needed a lot of extra treats at my immediate disposal!
Over the past few weeks, I've been on the prowl for the perfect dog treat pouch — something in which I can keep plenty of bite-sized goodies to reward good habits from sit to stay, to come to jump! Here are the results; 11 fantastic dog treat pouches to suit every taste and treat preference! Be sure to pin your favourites from the gallery below for your next shopping trip!
1.  BONE PRINT DOG TREAT POUCH – $20
The cute cotton option is a darling addition to your dog's training regime. It has a waterproof lining and an easy-to-use drawstring. Ideal for hooking onto the end of your dog's leash for everyday walking rewards!
2.  DOOG TRAINING POUCH – $30
Sassy and chic, this dog treat training pouch was designed with the aid of professional dog trainers! It is washable, durable, sturdy and spacious. The removable lining allows for easy cleaning and maintenance and it comes in two handy sizes!
3.  PRECITA DOG TREAT POUCH – $40
This American manufactured dog treat pouch is a delight! It boasts a heavy-duty nylon material that is simple to clean, as well as all sorts of handy compartments for all your daily human and dog essentials. It also has a velcro fastener, allowing for speedy closure when needed. Plus it even holds a ball chucker (a must-have dog park item!) so you can stroll around hands-free! Love it!
4.  THE POCKET – $20
Petit, flattering and stylish this perky little treat pouch conveniently clips to any belt loop or waist line. Offering an elasticated front, it helps to prevent a delay when rewarding your dog and can be simply transferred from pants to purse with minimal fuss!
5.  MY HIP WEAR DOG TRAINING POUCH – $16
Bedazzled with a sparkly pawprint emblem and equipped with a stretchy belt, this handmade dog treat pouch can carry your phone, cash and treats all at once in a snazzy and stylish manner. And bonus, you can request a custom rhinestone design to make this piece really stand out!
6.  SPOTTY 'TRAIN AND PLAY' TREAT TOTE – $15
Crafted from a durable canvas this seemingly simple dog treat tote can be opened and closed with one hand — an ideal feature for training! It has a spring loaded clip that attaches onto leashes, bags and clothing and a small zippered pocket for those essential human items that you just can't leave the house without!
7.  BARK OUTFITTERS DOG TREAT POUCH – $18
Designed with the athletic, outdoor-loving dog in mind, this brightly coloured pouch is large enough to carry an assortment of dog treats and small toys for a diverse approach to training. It also has reflective striping built in for added safety on night walks. Oh, and it is machine washable and fast drying!
8.  PREMIER PET TREAT POUCH – $15
The thing to love about this dog treat pouch option is its sleek, flat design. Store a few goodies for your dog, as well as your keys and phone in a separate front section. The dual inner pocket means durability and the treat section stays open to allow for easy access, yet can be simply and securely closed with the lightest of touches.
9.  WOODLANDS WALKING POUCH – $35
A distinguished option for the dog-owner duo seeking a timeless, classic style for their canine accessories. It is made of leather and features antique brass accents as well as room for a few tasty morsels, spare baggies and keys. I see this Australian creation and immediately picture the residents of Downton Abbey walking their dogs with this gorgeous pouch in tow.
10.  DEXAS POOCH POUCH – $10
These candy-coloured dog treat pouches are made from silicone, thus providing fast and secure closure on your stash of canine treats. The material is also non-porous, meaning that oils and/or odours will not be absorbed. But the icing on the cake is definitely the fact that the Dexas can be tossed into the dishwasher for cleaning!
11.  CITIZEN CANINE DOG BAG – $60
More of a bag than a pouch, The Citizen Cane is an ideal option for owners who enjoy taking their dog for long excursions. What I love most about this apart from its sensibly divided compartments and adjustable shoulder strap, is the BUILT IN poop bag dispenser! That's right! Enough said.
Save
Save