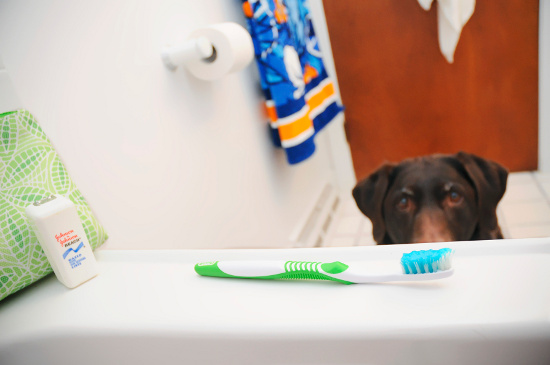 Say 'Awww!' No, no, not for the cute factor, not this time round. We're talking about the open-wide-and-show-us-your-tonsils kind of 'Awww.' It's time to face the infamous matter of doggy breath and dental care straight on!
Dental diseases are a common diagnoses in dogs and can develop into painful conditions. Tarter, plaque and gingivitis are just the beginning of a long list of unfortunate oral ailments that can harm your pet. However, as the saying goes, prevention is the best medicine, so keep your mutt's pearl whites in pristine condition with any one of these six dog dental care items!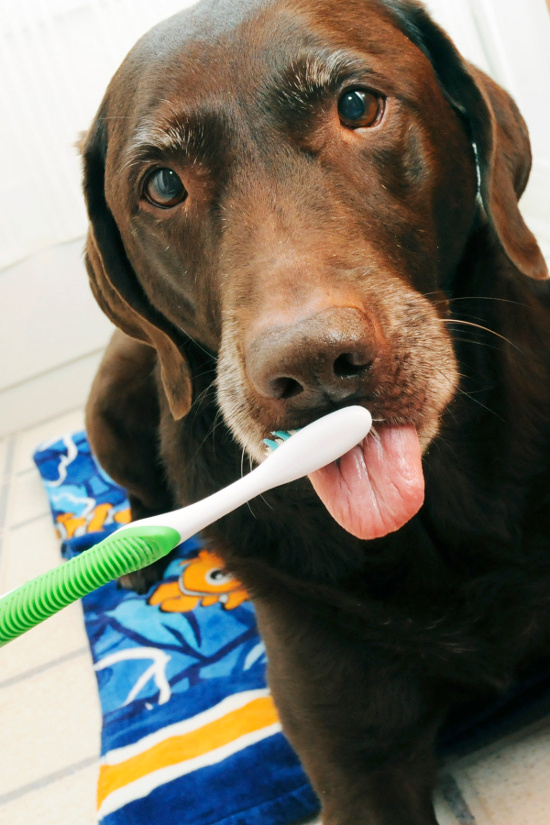 1. Get Naked Dental Chew (for Canada this link)
A chew for every sort of dog, including low-calorie, joint health, gut health and puppy, Get Naked sticks make the ideal dental treat for dogs with additional dietary needs. Produced by N-Bone, these high-quality digestible chew bones are a great option for proper tooth care.
2.  Petco Finger Brush
Bristles on a stick are not for everyone, so for those pups who prefer a hands-on approach, a finger brush may be the way to go! Simply place brush on finger as one would a finger puppet and gently scrub-a-dub at the little chompers in soft circular motions. You'll have a glistening grin in no time at all!
3. Cain & Able KissAble Toothbrush and Toothpaste
The unique design of the KissAble toothbrush ensures that cleaning all three sides of the tooth is a breeze! Soft luscious bistles massage the gums while firmer bristles clean the teeth! One word: genius! Oh and don't forget to use the all natural KissAble vanilla flavoured toothpaste! Sure to please pups and their people!
4.  Royal Canin Dental Dry
This vet exclusive kibble is specially designed to prevent plaque build up before it starts. It combines a medical scrubbing action with tarter-reducing ingredients and a balanced blend of antioxidants to help maintain great dog oral health. Plus it comes in a variety of tasty flavours!
5.  GREENIES Dental Chews
Made with natural sources of dietary fiber, protein and antioxidants, these Veterinary Oral health Council (VOHC) approved chews are nutritious and help control plaque and tarter build up. Available in five different shapes and textures to suit even the fussiest of canines, GREENIES are like a snack and toothbrush rolled into one!
6.  Nylabone DuraChew Double Action Chew
Let's add a bit of colour to all this tooth talk with the oh-so rad Double Action Chew! Not only will these interesting shapes and delicious flavours (bacon, chicken and more!) entice your chewing machine, but specially designed dental nubs clean while Fido is busy having fun! Suitable for pups who are itsy-bitsy and gigantic!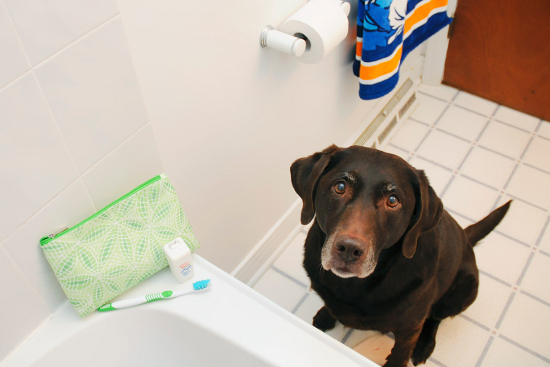 Toothbrush Tips
Before brushing your dog's teeth, be sure to get him or her used to the idea. Begin with short sessions, gently massaging the gums with your finger or soft bristled brush. If your dog resists, dab a bit of beef gravy or peanut butter onto the brush or finger and voila! Dental care becomes a treat!
{Photography by Stephanie Heim}