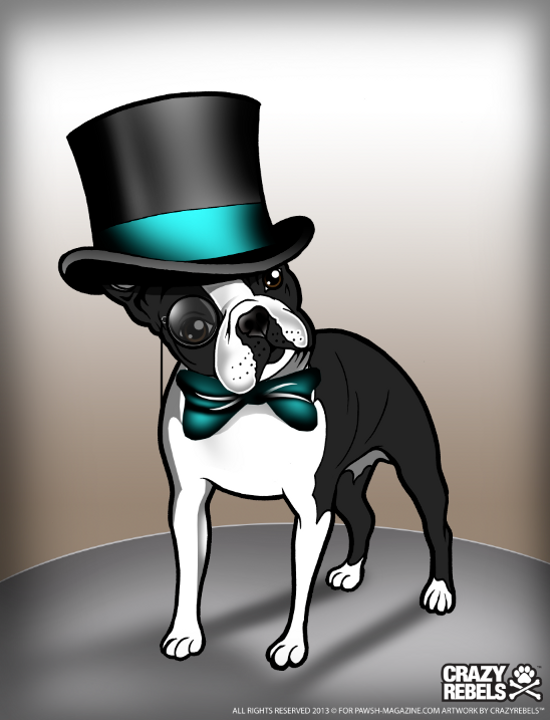 I am very excited to introduce a brand new Pawsh column today called "Pedigree Poems." It's something very different — something that I have never done here on Pawsh before — so I hope you enjoy it (she says taking a deep breath as she types!)

"The Boston Terrier is a charming fellow,
Brimming with wit and a demeanor quite mellow.
He sports a suit – brindle, seal and black —
So there's no denying he's a handsome chap!
An "American gent" is how he is known,
Who loves a good party and hates being alone.
Inquisitive, mannerly, sensible to boot,
A  stocky square build, perky ears (how cute!)
With a penchant for quiet, he'll take naps over yaps,
But is always keen to know 'what's the haps.'
Intelligent, kind and rarely aloof,
He is a natural, loveable, loyal sweet goof."
 Yes, it's a poem! (…hopefully you're still there?) When I was very young my parents would make up little rhymes about my dog, Trilby, to help me remember important pup facts, like how many cups of food she needed or how she needed to sit before going for a walk.
I wanted to carry that mini tradition forward. I also wanted to find a way to talk about different breed characteristics in a fun way, because a lot of breed profiles tend to be a bit clinical sounding and dry. "Pedigree Poems" is the result.
Huge thanks to the talented artists over at Crazy Rebels for this exclusive illustration. Don't they do a brilliant job of personifying the Boston Terrier's darling mannerisms? Do you have a Boston Terrier in your life? I'd love to see your photos if you do, so please feel free to share them on Pawsh's Facebook page!