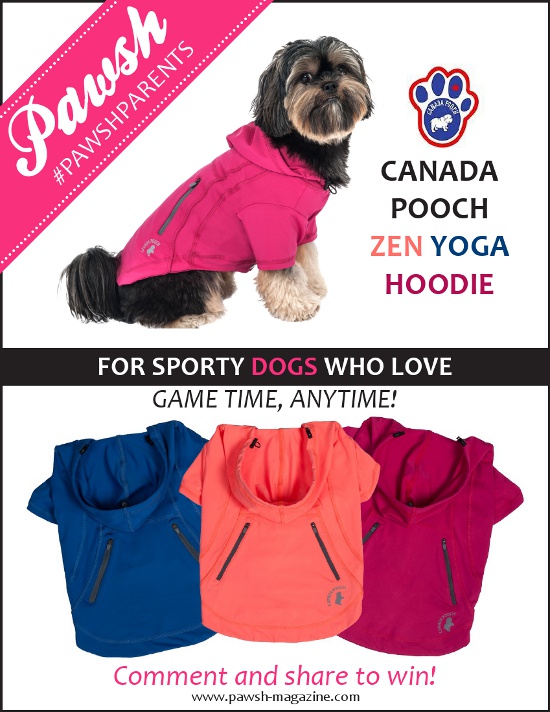 Did you know that you can do yoga with your dogs? (Check out Pawsh's dog-friendly yoga tips!) So today's giveaway item is very fitting indeed!
One lucky winner will receive Canada Pooch's gorgeous Zen Yoga Hoodie. Not only is the craftsmanship on all Canada Pooch garments impeccable, but they are available for all sizes of dogs from itty-bitty to full on Labrador!
The Zen Yoga Hoodie is made of lightweight, stretch fabric of the same quality that is used in human yoga gear. It also has a reflective logo for nighttime safety and a darling little zipper pocket for storing treats and baggies.
Retail value:
From $34.99 (price increases as size increases)
How to enter:
Once again all you need to do to enter today's giveaway is leave a comment on the blog post below telling us what your dog's favourite activity is.
Bonus entry options:
But if you are like me and absolutely LOVE this prize, you might want to consider one or two of these fun bonus entry options.
1. Follow Pawsh on Instagram and share a quick self portrait of you and your dog (like this — it's me!)  Just be sure to use the hashtag #PAWSHPARENTS so that I can see your photo entries.
2.  TWEET the following phrase: "I just entered @Pawsh_Magazine's #pawshparents contest for a chance to win a @CanadaPooch yoga hoodie! http://bit.ly/15Ftiby"
All entries will be tallied and a lucky winner drawn at random! (All winners from this week will be announced here on the blog next Monday, April 29th!)
Good luck everyone! Can't wait to see your Instagrams today (I am soooooo obsessed with Instagram, aren't you?)