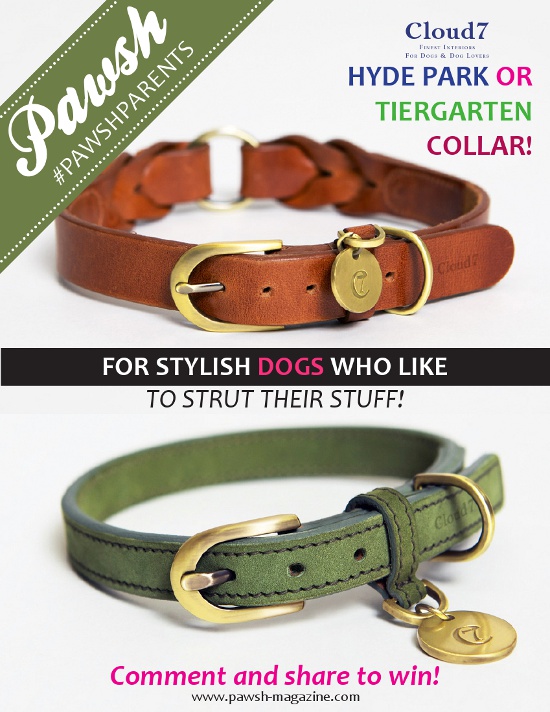 Okay, are you ready? What with Mother's Day just around the corner the time has come to celebrate all of you wonderful, devoted pet parents! And what better way to celebrate all that you do for your beloved furkids than with a whole week of giveaways! So, are you ready?
First things first, remember this hashtag #PAWSHPARENTS — it is the key for all bonus entries this week!
The first giveaway is ONE stunning collar from our friends at Cloud 7. Made from the finest Nubuck leather, with dazzling hardware and refined stitching, these collars are a real treat indeed! Going out in style will be a breeze when your pupster rocks this lovely wardrobe must-have. Plus these collars come in a variety of colours!
Retail value:
$100
How to enter:
As you know, Rory and I like to keep entries simple around here, so all you have to do to enter this contest is leave a comment on this blog post telling us why your pup would love this collar. That's it! One little comment and you're in!
Bonus entries (optional):
However, if you're feeling creative we do have a few bonus entry options (meaning your name will be entered into the random draw not once, but twice or even thrice depending upon how many entry options you complete! Oooh!)
1. Follow Pawsh on Instagram and share a photo of your dog on Instagram wearing their current collar. Just be sure to use the hashtag I mentioned above (#PAWSHPARENTS) so that I can see your photo entries.
2.  TWEET the following phrase: "I just entered @Pawsh_Magazine's #pawshparents contest for a chance to win a $100 collar from @Cloud7Berlin! http://bit.ly/17RZQys"
All entries will then be compiled and ONE lucky winner will have their name drawn at random! All winners' names from this week will be posted here on the blog on April 29th, 2013!
Good luck everyone! And happy #PAWSHPARENTS week! More great prizes coming your way tomorrow!