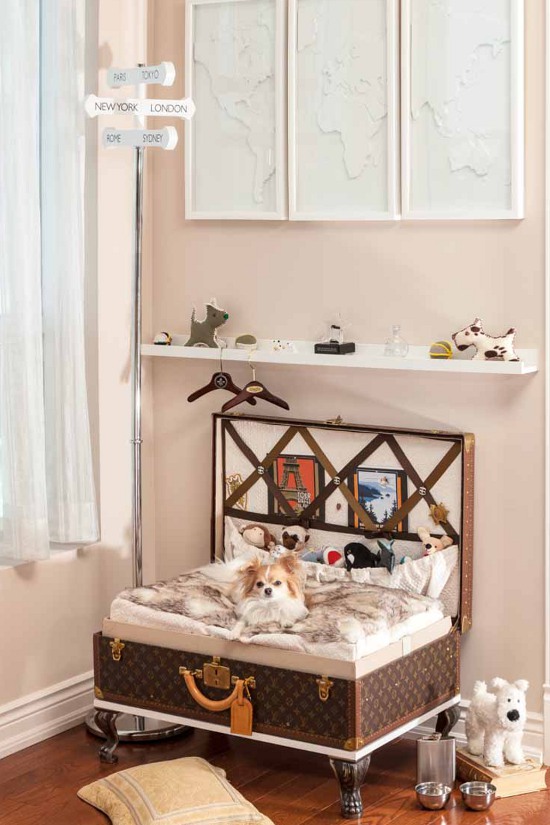 A new trend making its mark on the design world is the dog room. Yes, entire rooms designed specially for the family pooch's comfort.
Some dog rooms are simple conversions to make better use of a surplus linen closet, while others are small-scaled renovations to transform an odd foyer or similar area into a dog-friendly mudroom or convenient (and stylish!) at-home boarding space.
Today we have a special treat — a brand new, never before seen room tour of one such dog-friendly space that belongs to the little long-haired chihuahua from Montecristo Travels. Here are the details…

The obvious place to start is The Trousseau (or suitcase dog bed). Talented canine couture designer, Kiki Hamann, converted the antique Louis Vuitton suitcase into a one-of-a-kind cozy bed, complete with a travel document holder (this little fluffball travels the world), water flask and toiletry bag.
The feet are lions claw feet. Monte's owners raised the bed so he could look out the window into the big wide world and dream of his next great adventure.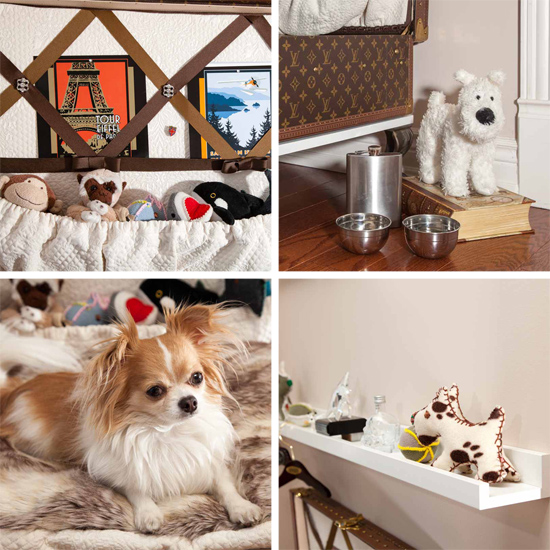 A convenient drawer lifts out of the bed, offering clever storage for Monte's wide selection of harnesses, sweaters and outwear. His owners say they especially love this feature, because it supports their minimalist lifestyle by limiting the space for new items. "When it is at full capacity, nothing new goes in unless something old goes out," explains Monte's owner.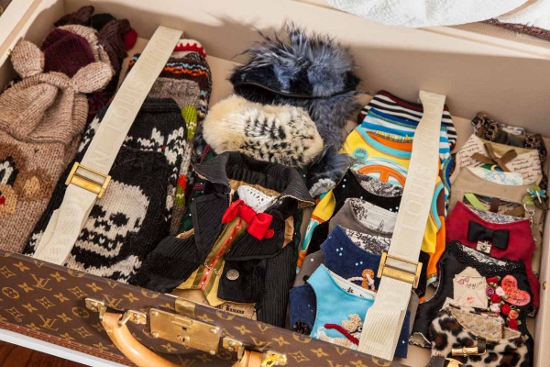 The pretty, sun-bathed space is decorated with contemporary maps of the world. Meanwhile Monte's shelf is adorned with his Dog of Hamann award, his hero figurines (the dog Snowy from TinTin and Idefix from Asterix), as well as a few other knick-knacks collected from his various trips.
Vintage travel postcards are held by a postcard "board" (note the crystal detail) and there is an envelope to hold all his toys, all made in matching trousseau fabric.

Nobody can deny that this carefully constructed, dog-friendly space is very cute indeed. Aren't the little city road signs adorable? To see more of Monte's room tour, be sure to hop on over to HIS WEBSITE here. (All photos by Dawn Oosterhoof Photography).
Can't get enough of dog-friendly home decor? Here are two other dog rooms that are sure to make your pups at home drool…
Note the dog dinner dishes built into the wall to avoid unwanted spills and mess — clever! A beautiful window seat provides Fido with a nice place to watch the world go by and the wall decal of a lamp post is very Lady and the Tramp. The pup who lives here is very lucky indeed!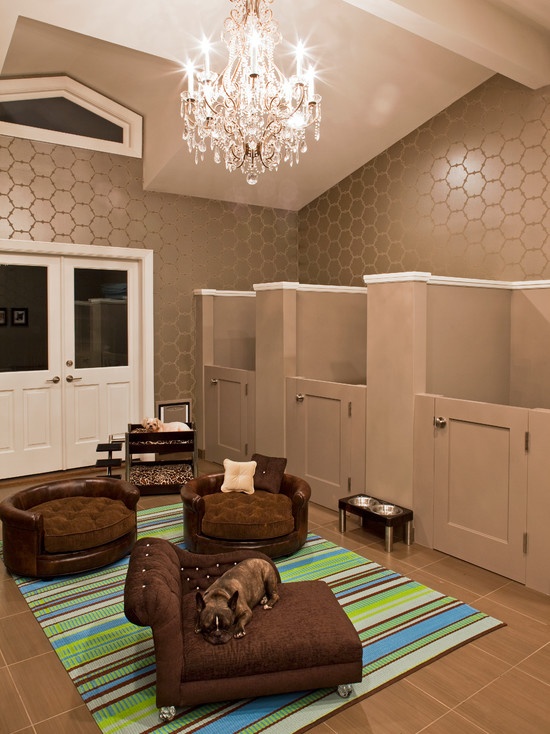 These spiffy space has dog-friendly furniture, a durable yet brightly coloured rug for little paws to relax upon and a series of beautifully crafted kennels. The twinkling chandelier adds a touch of sparkle to this space and those large double doors likely open up onto a yard for pupsters to play in.
This set up would be ideal for somebody who runs an at-home dog boarding service or fosters multiple dogs at the same time, don't you think? It's kind of nice to imagine all of the dog items neat and tidy in one room…
What do you think about this trend? Would you ever consider having building a dog room? What sort of features would it have?
(Last photo via)