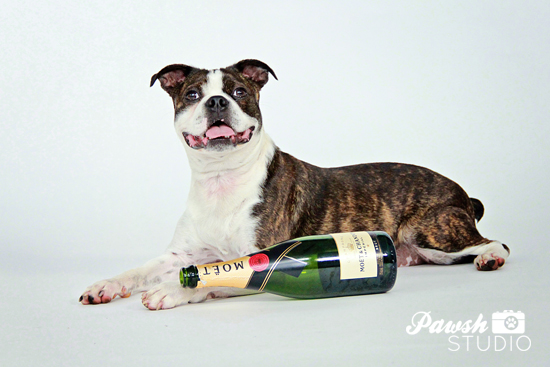 Happy New Year everyone! I hope you all had a sensational holiday season! It was certainly eventful around here. Toronto had an icestorm that resulted in all sorts of power outages and chaos. A huge branch came down and crushed a parked car on my street! But once all of that settled down, the coziness of the holidays returned.
And now we are beginning a brand new, fresh-faced year and I couldn't be more excited! I love the first week of January, day-dreaming about what the year might hold, coming back to work refreshed and finally tackling new projects.
While I also love making resolutions, I've decided this year to instead make Pawsh promises to myself, to you and to our furry friends. Promises for improvement, for growth and for more fun — and here they are…
1. PAWSH PROMISE #1: THREE SPECTACULAR ISSUES
This year I promise to produce a minimum of three amazing issues of Pawsh Magazine. The magazine will be undergoing a redesign, it will showcase new features and each issue will be bigger and fuller than ever! The first 2014 edition will come out on March 1st.
While reflecting over the holidays I realized that I really want to refine and project Pawsh Magazine's voice so that we can offer even more great, original content to help pets all over the world have the best lives possible.
2. PAWSH PROMISE #2: MONTHLY GIVEAWAYS
After much debate, I have decided to suspend the Pet of the Month column this year. It's not that I don't love it — I do! But I would like to start running giveaways that everyone can enter have a chance to win as a thank you for the time you take each day to visit the site. So keep an eye out — there are some fabulous items headed your way each and every month this year! Hooray!
3.  PAWSH PROMISE #3: GIVE BACK MORE
Pawsh was born out of a deep love of animals; a love that grows each and every year and remains the focus of everything we are trying to do with this ongoing project. I want to continue that mission and plan to bring more great print products to Pawsh Print Shop, run more Pawsh Studio promotions, and produce more creative projects to promote awareness and raise money for animal welfare issues. Every animal life that is helped or saved makes the world a better place.
4.  PAWSH PROMISE #4: FOCUS
Sometimes, while feeling ultra inspired, I can get distracted by new ideas and aspirations. I can spread myself too thin. I can get burnt out. I can feel overwhelmed. This year I promise to retain focus to make Pawsh more dynamic, more consistent and more present. I promise to keep myself grounded in the present, to focus on the task at hand and to work towards my goals one step at a time.
5. PAWSH PROMISE #5: MORE CONTENT
I promise to infuse new life and creativity into the Pawsh blog. There is all sorts of new exciting content in the works for you guys. There is a new, bold editorial calendar in place for the new year to keep things lively and fun.
There is also a brand new monthly newsletter now in place, brimming with exclusive content just for subscribers! Coupons, exclusive Pawsh Studio deals, never-before-seen dog treat recipes and more await! All you have to do is subscribe to it here!  The first edition comes out on Monday!
***
I hope these promises don't sound too similar or narrow. My biggest dream for Pawsh is for it to be loved by pet owners of all ages, for it to be a place where we can always share our funny pet stories and learn new ways to care for our furry friends. By making these promises to you here today I am confident that we can have our best year ever here on Pawsh! xo