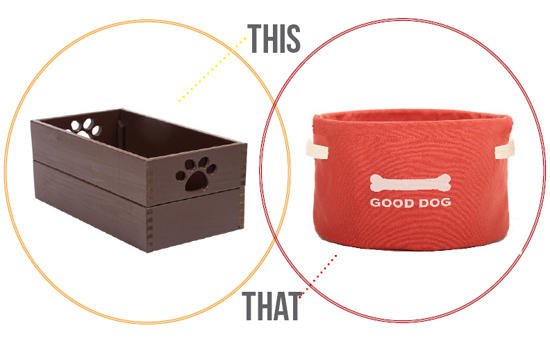 If you pupster is anything like mine, toys are strewn all over the house everyday. It's amazing, really, how quickly the home can feel tidy again by just gathering up all of the dog toys and plonking them into a toy bin. But the question becomes which style of toy bin do you prefer?
1. Dynamic Accents Pet Toy Box in Mahogany
Sturdy and stylish, this wooden toybox has the look and feel of a traditional piece of furniture, yet the adorable paw print cutouts add some playful charm. Deep and wide — perfect for storing all those toys you spoil your dog with.
2. Good Dog Canvas Toy Storage
Lightweight, durable and bright this water proof dog storage bin is ideal for keeping drool covered chew toys out of sight. Plus, the lovely colour palette of this piece livens up a space in a snap.
Which one do you prefer and why?
Save