I am playing catch up with my pet photography sessions. Can you believe I haven't really shared any since January? Craziness!
To begin with, I would like to share this beautiful boxer shoot. It was booked through Pawsh Studio's Soulmate Session special in February (spoiler alert: this event will be hosted again in February 2015 and yes, you can book now if you'd like) and was created as a simple, timeless session to celebrate a very special friendship between man and dog.
This beautiful boxer — a senior girl called Zoey with a heart of gold — was an absolute joy to work with. She was a little nervous at first, but after some tasty treats, belly rubs and lots of ear scratches she soon warmed up and had a blast trotting on and off set for her close ups. She was a pro!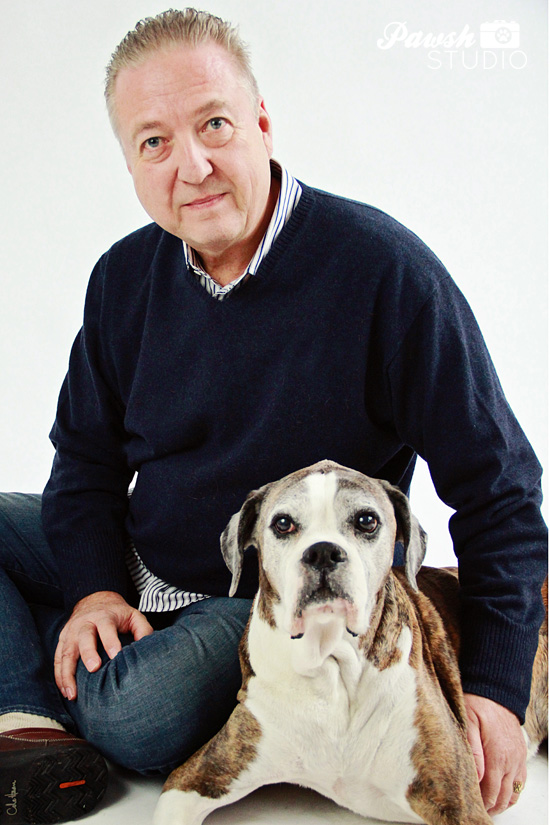 It is always fascinating to photographer people with their dog, because you start to see similar mannerisms and behaviours unfold through the camera. The shot of these two best buddies looking at one another absolutely melts my heart — the mutual adoration is obvious!
I had the great pleasure of creating a custom 16×20 fine art canvas for the pair — a piece that shows off the manner faces and expressions of Zoey to be enjoyed forever. I especially liked the cool colour palette, as it lends itself wonderfully to wide variety of decors. You can see it below (of course, the studio's logo was NOT on the final product).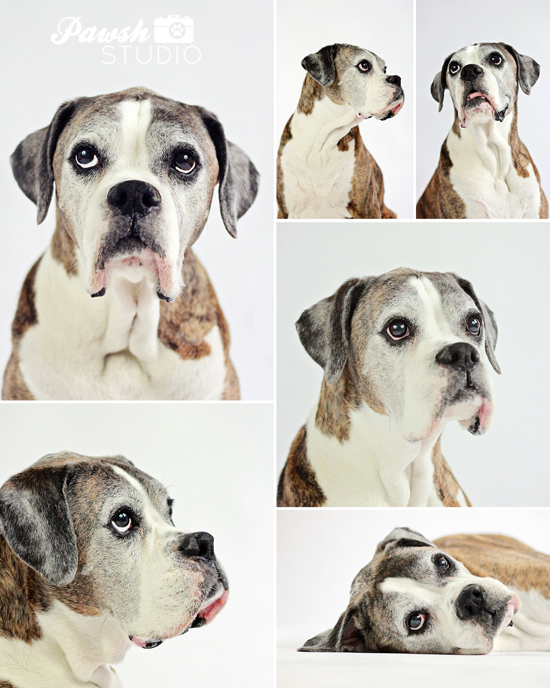 I feel so lucky to have met this beautiful lady and her wonderful owner. Tragically, a mere two weeks after our session, Zoey's parents called me to say that their beautiful girl had passed due to sudden illness.
The news was a tremendous shock and, as you can imagine, heartbreaking. I got chills thinking about the fact that I was lucky enough to be able to capture some of Zoey's final healthy and happy moments for her family to look back on. It was a sad reminder that our pets are only with us for a relatively short time and that documenting their gorgeous souls is truly priceless and something that shouldn't be put off.
Photographing true love is always a tremendous delight and I look forward to inviting more pet parents and their furry friends into the studio this season!
Don't forget, if you'd like to sign up early for Pawsh Studio's 2015 Soulmate Sessions taking place in February, or if you'd like to book a regular pet session, please email to reserve your spot!
My assistant and I have worked with all sorts of pet personalities from super shy to very hyper and we always make sure each session is a wonderful, relaxed and joyful experience. Don't believe it? Find out what past clients are saying here!

Save
Save