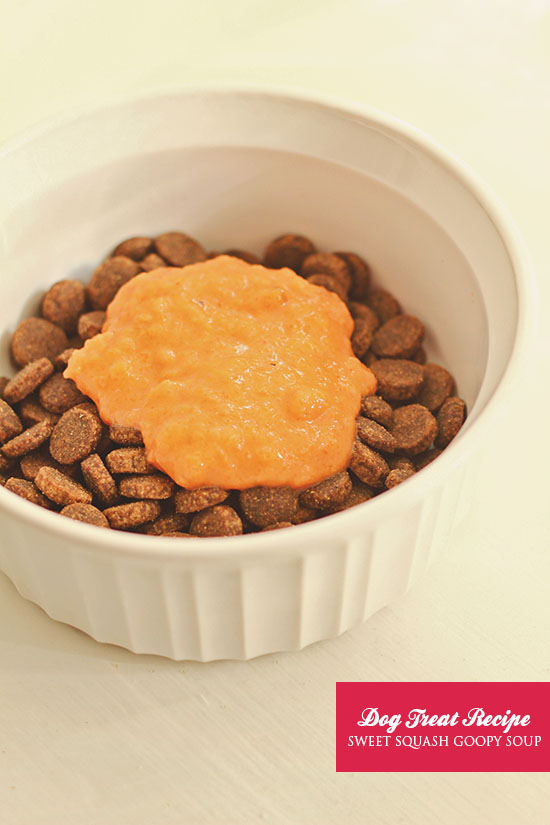 Soup may not sound like something that you would treat your dog with — after all you can't exactly slosh soup around in your pocket. But, believe it or not, soup is a fantastic way to spoil your furry minion at home, especially if you make it a little goopy!
This dog-friendly Sweet Squash Soup Goop recipe is a wonderful way to cozy up your pup's kibble at dinner time! It takes no time at all to make, adds interest to your dog's meal and gives them a healthy boost of much needed vitamins and dietary fibre! Oh, and did we mention that this easy dog treat recipe has only THREE ingredients? And go!
INGREDIENTS
– 2 cups of no sodium vegetable or chicken broth
– 1 or 2 organic sweet potatoes
– 1 butternut squash
DIRECTIONS
1) Slice and dice the sweet potatoes and squash into bite sized pieces.
2) Place in large pot and cover with broth.
3) Bring to a gentle simmer for 30-40 minutes or until potato chunks are soft.
4) Allow to cool and blend using an electric hand mixer or blender (who knew!)
5) Store in glass jars or plastic containers once cooled.
When dinner time comes around, simply ladle over your dog's kibble and watch the drool flow! this is especially ideal for older dogs who may have sensitive teeth and need their kibble softened with a bit of water before chowing down. A simple way to dress up suppertime and your dog will adore you for it!
PAWSH PERK: Another three-ingredient dog treat recipe.
Save
Save