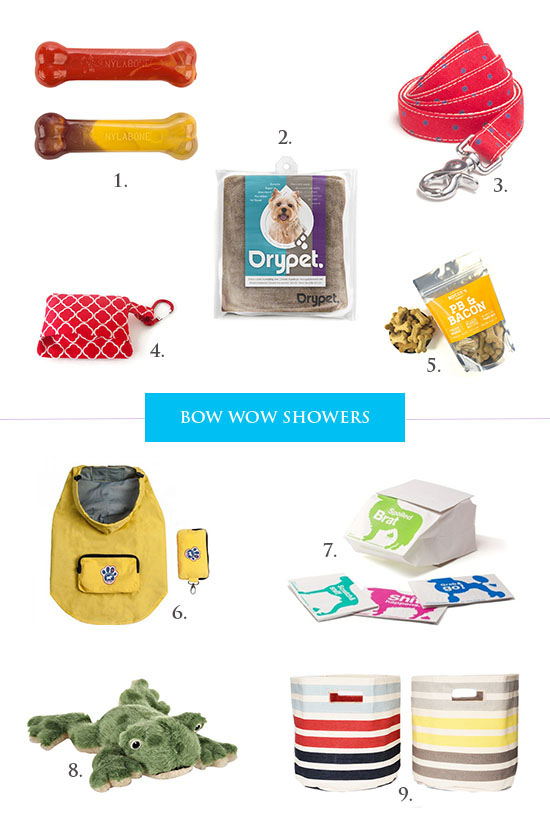 Spring has sprung! Spring has sprung! It is official which means your furry minion needs to be prepared for those pesky bow-wow showers. Here are nine must have dog products to get you through puddles, thaws and all that April fuss!
1. NYLABONE CHEESEBURGER AND APPLE PIE CHEWS
A feast that is great for your dog's teeth! As soon as the snow disappears, hotdog and burger vendors hit the streets of Toronto and now your pup can indulge too! ($7.99 each)
2. DRYPET DOG TOWEL
Mud puddles beware! Your dog can frolic in the muck as much as they would like if you're equipped with this wonder towel that makes drying even the soggiest of dogs a breeze! ($11.99 small size)
3. RED POLKADOT LEASH
This handmade beauty will add a spring to your morning walk step. Step out in style and celebrate the warmer weather with a fresh new look. ($30.00 each)
4. RED QUATREFOIL DOG BAG HOLDER
Take some of the 'ewww' out of poo with this snazzy poop bag holder. It is handmade from 100% cotton fabric and orders can be customized! ($4.99 each)
5. BOCCE BAKERY PB & BACON DOG TREATS
Baked with human-grade ingredients, including all-natural peanut butter, these bacon infused goodies will make any dog jump for joy. Great for training and spoiling! ($9.50 per bag)
6. CANADA POOCH PACIFIC PONCHO
Beat those pesky April showers that happen without any warning at all with this nifty dog raincoat. It's bright yellow, which adds cheer to a dreary day, and folds up into a neat little package so that you can carry it anywhere just in case! ($29.99 – $34.99 each)
7. POO POO BAGS
Finally! Poo bags with attitude! All the way from Germany these biodegradable bags offer a little cardboard 'shovel' apparatus to help you scoop and they feature funny taglines like "Spoiled brat," "Scratch and sniff," and "Sh** happens." ($10.00 per pack)
8. MARTHA STEWART BULLFROG DOG TOY
Treat your pup to a froggie friend like this squeaky bullfrog bestie. He is great for snuggling and chewing! ($6.99 – $9.99 each)
9. WAGGO CANVAS STORAGE BINS
And last but not least a chic canvas storage bin to toss all of your dog's spring apparel, toys and gear when it's not in use. The easiest way to keep your dog-friendly home tidy! ($38.00 each)
—
Which of these spring dog products do you love the best? Let us know in the comments below, as well as any other items you love for spring!
Save
Save