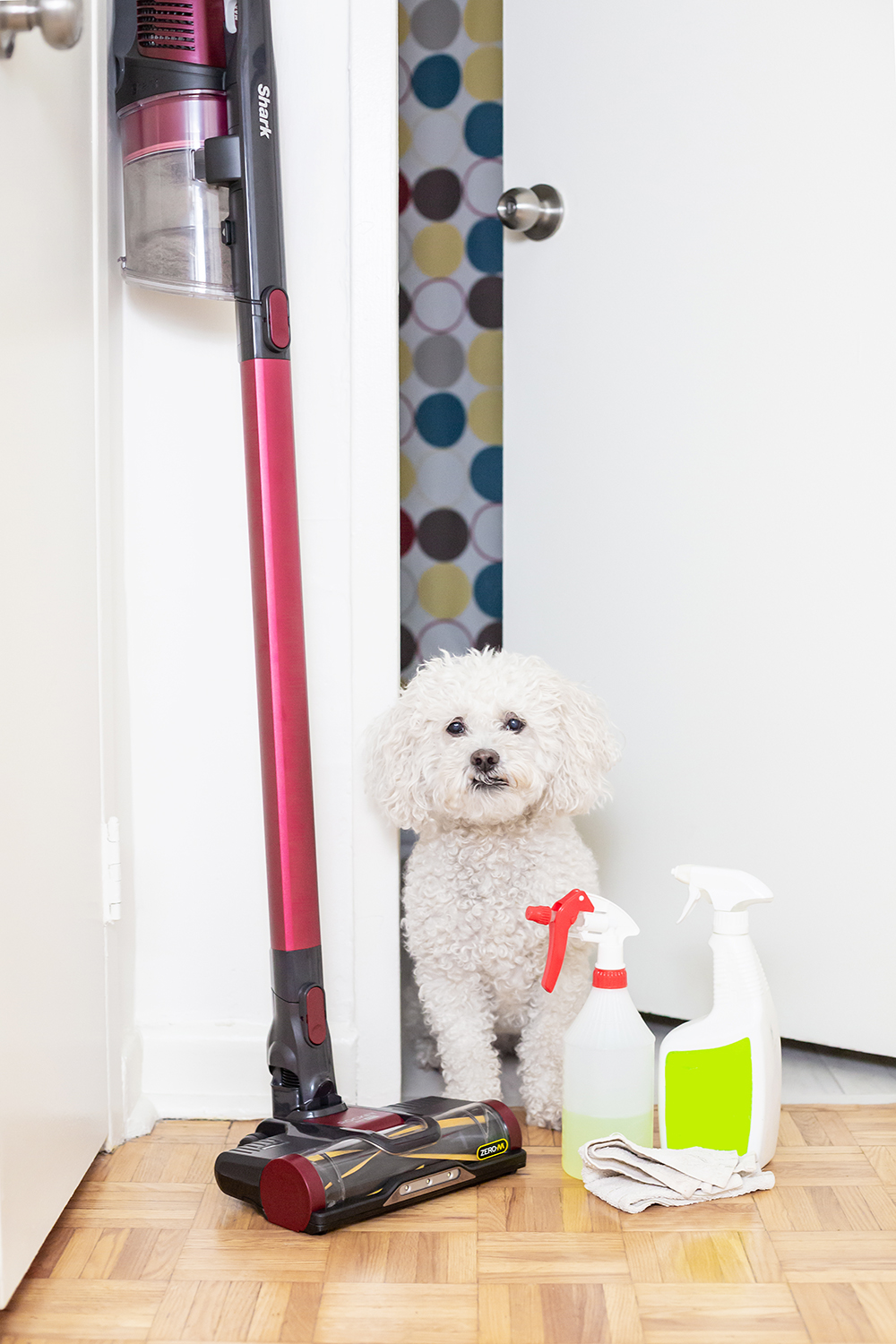 If we had to say there was one teeny-tiny "downside" to sharing our home with a dog, it would be that with great canine cuteness comes… great cute mess. From mucky paws, to shredding toys, to knocking things over and the almost constant shedding, life with a pupper underfoot can be a lot of clean up. So we recently added a Shark Rocket Pro Cordless Stick vacuum to our dog-friendly cleaning supplies and after living with it for a while we have to say, it may just be the best vacuum for pet hair that we've used to date.
But before we could dive into using all of this machine's wonderfully efficient cleaning features, we had to first get our dog used to the vacuum.  Fortunately, we had a few tried and true tricks up our sleeve…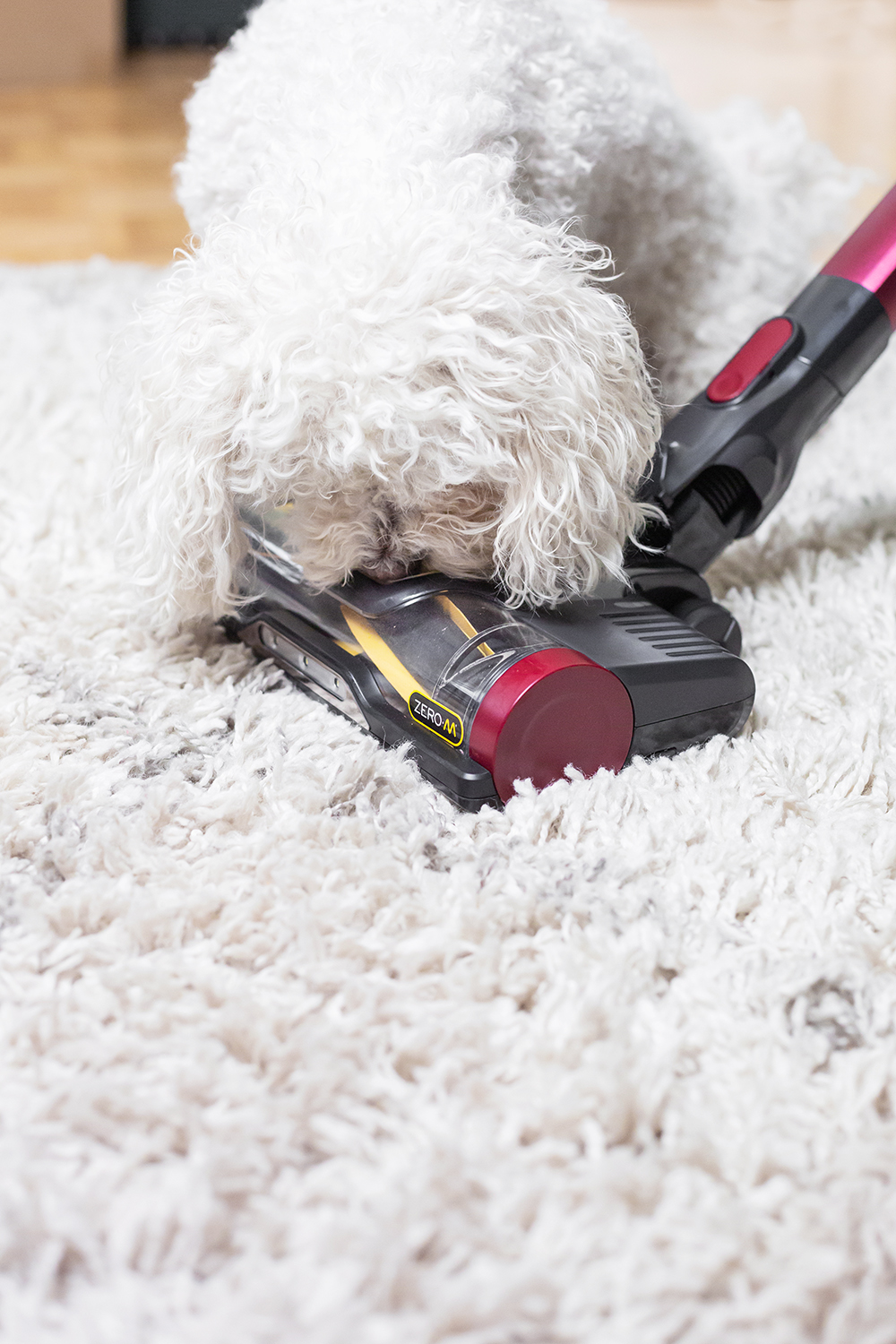 UNDERSTANDING WHY ARE DOGS SCARED OF VACUUMS
Getting dogs used to vacuums is a challenge that many dog parents face during their quest to keep a tidy dog-friendly home. After all, it's common for a dog to be scared of a vacuum, because it's a new, noisy presence entering their territory. The canine reaction is sometimes excessive barking, running away or charging.  Some dog behaviourists suggest that dogs are put off by the new scent a vacuum brings to the home, while others believe that the noise is alarming.
There is also a school of thought that in the dog's mind they are protecting their human from 'an intruder' — which might sound heartwarming, but for the fellow Monica Gellar's out there who just want to keep their home fresh and fabulous, this can be less than desirable.
So, the very first thing we did when our Shark Rocket Pro Cordless Stick arrived was get our resident product tester, Miss Rory, introduced to the new contraption.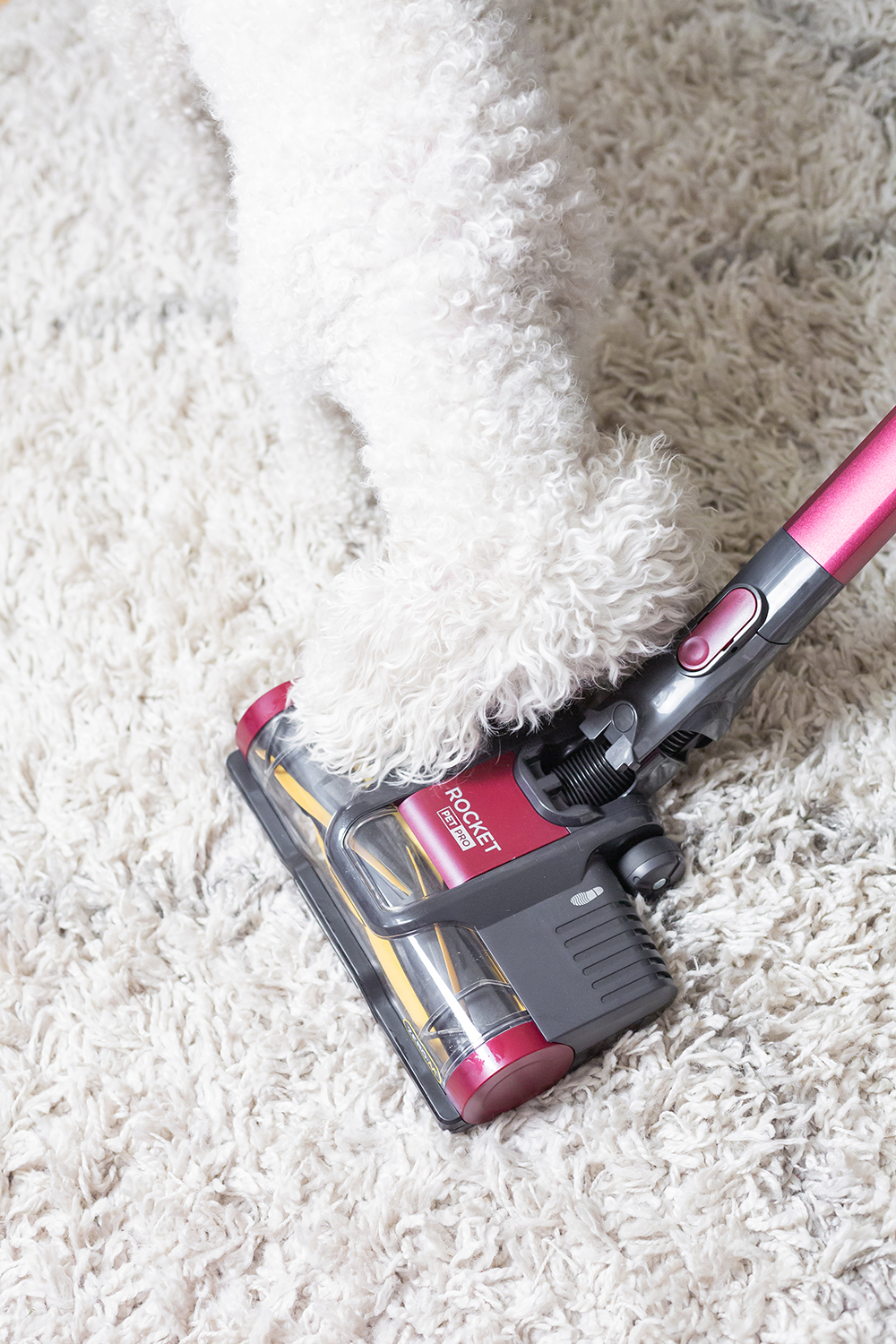 HOW TO GET DOGS USED TO A VACUUM IN THREE SIMPLE STEPS
If you're prepared, mindful and committed to investing in a bit of positive-reinforcement training time, your dog should welcome a vacuum with no trouble at all. We're sharing how we got Miss Rory happy and comfortable with the best vacuum for pet hair in just three simple steps.
DOGS AND VACUUMS: STEP ONE
First, we let Rory help us with the unboxing process (she loves sticking her nose into parcels and packages on any given day) so that she could sniff it all out. We put the cordless vacuum together (which clicked together with ease — no confusing instructions or hefty mechanical thinking required) and encouraged Rory to continue sniffing and interacting with it, while we eagerly sat down with the the instruction manual to soak up all the details.
Not only is the sleek colourful design of this stick visually appealing, but the bare floor vs carpet settings and detachable handheld mini vacuum that unclips from the top are very useful features too.
DOGS AND VACUUMS: STEP TWO
Once Rory had sufficiently sniffed the stick out from end to end, we left the vacuum out in the middle of the room (while turned off) near Rory's dog bed for a couple of days. The idea with this is to get her used to its presence — it's not a scary item that is hidden away in a closet and whisked out suddenly without warning, it's simply a part of furniture.
We actually rested it by her dog bed to get her comfortable sleeping around it (aka letting her guard down). While this 'conditioning' was taking place, we set up the nifty removable battery for charging.
DOGS AND VACUUMS: STEP THREE
Now for the moment of truth — we turned the vacuum on. It was a pleasant surprise to find that the Shark Rocket Pro Cordless Stick has quite a subdued sound compared to most vacuums, but we still wanted to be extra certain that Miss Rory was calm with it running. So we let the machine run for a bit and supplied Rory with healthy dog treats as it did while excitedly praising her. Then we would turn it off and repeat the entire sequence. On, treats, praise, off, praise. On, treats, praise, off, praise.
This process forges a positive connection between the noise and the machine, thus putting pupper into a state of calmer energy. Depending on the dog, you may need to run this exercise a few times before being able to actually clean your floors. Luckily for us, Miss Rory was accepting of the new vacuum within all of 30 minutes — she even started pawing at it when it was turned off (we think she thinks it is a treat dispenser now!)

WHAT MAKES THIS THE BEST VACUUM FOR PET HAIR (IN OUR OPINION)
And then the cleaning could commence! What we love about this model is the dirt engage technology that sucks up large and small pieces of debris, as well as the self cleaning brushroll! Yes, that's right — no more cutting hair or fur out of bristles.
The head of the vacuum smoothly swivels, making it ideal for getting into corners and around furniture. And as mentioned previously, the removable handheld vacuum that unclips from the top makes getting into those otherwise impossible nooks and crannies a breeze! We also love the fact that it's cordless, thus removing any danger of puppies or adult dogs chewing cables when you're not looking.
Best of all, however, is the fact that the Shark Rocket Pro Cordless Stick is extremely light weight, which means we're reaching for it all the time to quickly run over our floors and rugs. So whether the doglets are coming in from a walk or shaking out fur here, there and everywhere, we can keep our space extra tidy without the stress of having to maneuver a challenging machine. Simply click, press on, glide over the space and put away again. Easy peasy!
With this baby now a part of our household, no matter where grit from little paws is traipsed through the house, we've got it covered.