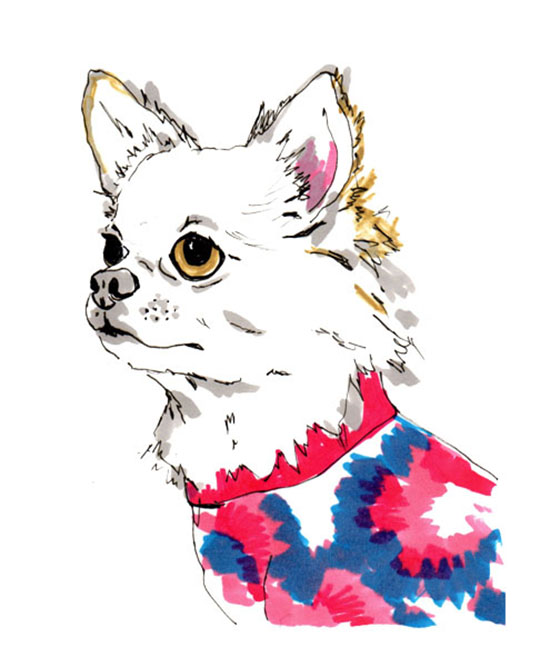 If you love dogs and drawing then today's interview with Jo Chambers from Studio Legohead is right up your alley! We first met Jo years ago when she had just opened her charming custom pet portrait Etsy shop.
We are thrilled today to be catching up with this flourishing British artist and chatting with her about the ups and downs of running a print shop, the never-ending quest for inspiration and, of course, her love of all things dogs and doodles!
1) For those readers who may not be acquainted with you, what is Studio Legohead all about?
Studio Legohead is all about capturing the joy and personality of canines and felines. I love creating portraits of peoples beloved four legged friends. I get to work with so many lovely people and over the years have made so many wonderful contacts across the globe.
I'm a big fan of colour and pattern too, so a lot of the time I am asked to adorn the models with neck wear and fancy attire to suit their personality. As well as custom portraits I also have a range of greeting cards, wall art and also fabric designs.
2) What is your educational background? Did you study art in school?
At school I can certainly say that Art was my favourite subject. So it was no surprise that I went on to study art and textiles at both college and university. My background is mainly in printmaking and textiles, concentrating in the area of embroidery. I think my textiles background comes through in my portraiture work via the neckwear and patterns I use as backgrounds.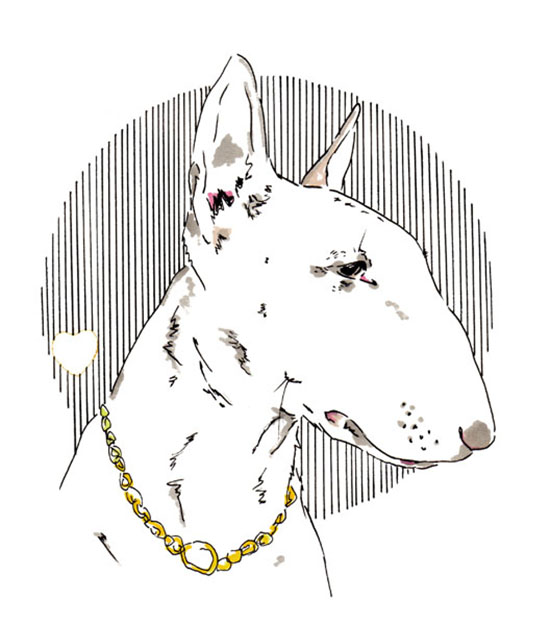 3) Fill us in on the past few years. How has Studio Legohead changed or grown?
Over the past few years I have been so grateful to work in many areas and have met some fabulous people. Selling more wall art, fabric design and also getting my work published and licensed have all happened over the past year or so. I so enjoy working in different areas, as it not only pushes me, but keeps the work exciting and I never get bored.
4) Your Etsy shop is flourishing! Congratulations! What advice would you give someone who wants to open a successful print shop?
Firstly, thank you! I am so pleased I decided to open an Etsy shop. It really helped me hugely when starting out. Having somewhere to point people to and show off what you do is great for attracting new customers from across the globe. I am still delighted that I get so much work from outside the UK. It means I get to connect with a ton of people from different countries, which I love.
5) Drawing dogs looks absolutely blissful on your Instagram feed. Can you walk us through your typical work day?
My day can vary. I often start with e-mails. Because I work with so many people from different time zones I like to get these replied to as soon as I can. Then it will all depend on what I'm working on. I tend to plan my weeks as I go, begin freelance you can never tell how the work will come in, so prioritising jobs is good and makes for a calm environment to work.
If I'm working on commissions then I always make sure I reread e-mail correspondence so that the end product is as spot on to the customers requirements as can be. Once I've got the character correct I get started not he details, I tend to always start with the eyes. I've been told on many occasions that I capture them well. Which is lovely to hear. I of course want to the portraits to be joyful, but I also want to make sure I really get the canine or felines personality right. I think that can always be seen in the eyes.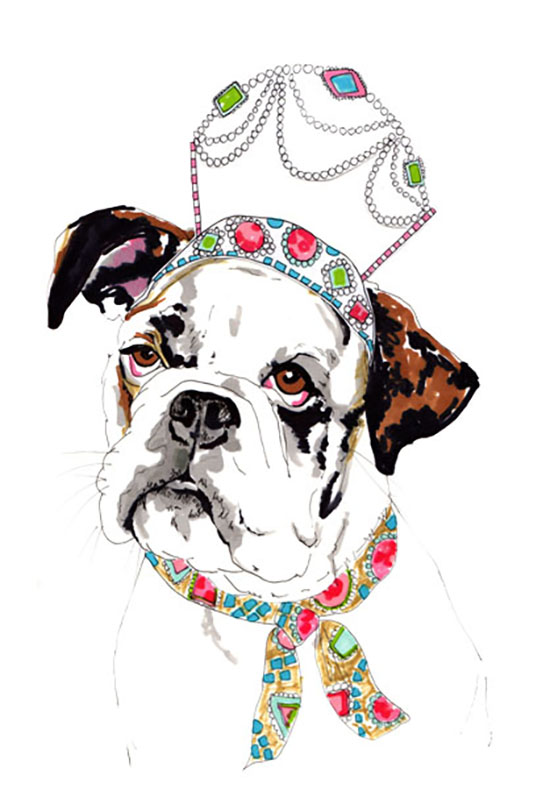 6) What advice can you share about marketing an artistic business beyond social media outlets?
When I began I was slightly naive about the 'power' of the internet. I started by e-mailing blogs and websites that I felt my work would suit, and also that I admired for their content. To my surprise I got a ton of replies and before you knew it I was being featured on some great sights, Pawsh included of course!
It all then went from there. Beyond social media a lot of work comes from word of mouth, clients that have passed my details on to friends and family, they are always fabulous to work with. As well as the above I have my work stocked in several boutiques and will take part in fairs as and when I can.
7) How do you continue to fuel your inspiration?
I never struggle for inspiration. I love collecting, and often what I see and find isn't worth much in monetary value, more so in visual splendour. Kitsch items, ornaments and vintage things are always soothing I'm attracted to. Flowers and pattern play a big part in my business too, so I love finding colour and shapes to draw in this area also.
8) We hear a lot of small businesses talk about burn out (Pawsh included!) How do you handle this challenge and/or avoid it?
I can hand on heart say, that I love what I do, but of course I'm aware that being your own boss can at times be a little stressful, as you are accountable for every part of the business. But so far, I haven't suffered burn out. I have always been a steady worker, even in my university days.
I'm not one to be working up to the wire, or sat up at 3 in the morning working. I just don't function like that. I do though wake early most days. The alarm goes off at around 5:45am most week days. This is so I can have an hour or so too myself and also I don't function well without exercise, and mornings are when I'm motivated to do it! I guess it keeps me in a good and positive mood.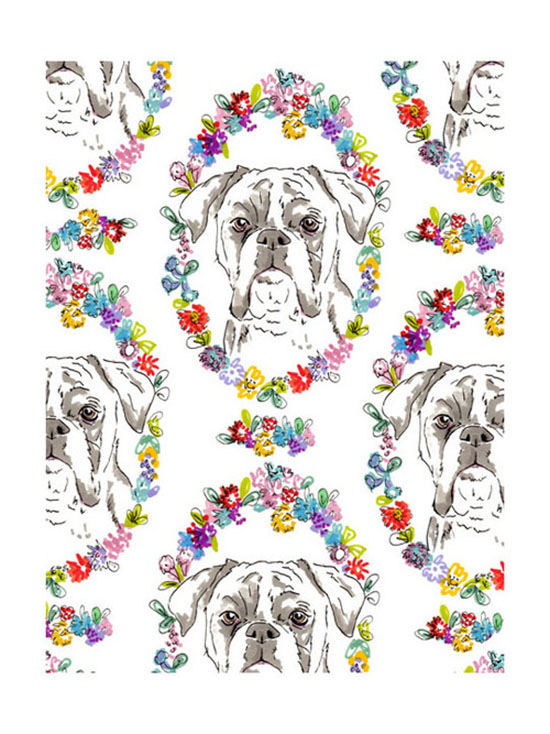 9) A lot of small business owners talk about the importance of finding their ideal client – how did Studio Legohead find its ideal client?
My ideal client is anyone that loves animals, colour and has a sense of humour. I think I've been very fortunate that through social media outlets I've had a great platform to attract people my way. I so enjoy talking with people too, so I always really enjoy the e-mail conversations I have with clients. I get to work with so many great humans!
10) What's in store (pun intended!) for Studio Legohead in 2015?
Well 2015 started off very well, with commissions and licensing deals. I have also started offering a range of fabrics on Spoonflower, which I'm very happy about. I intend to do more embroidered work this year, as well as new prints and cards to add to the growing collection.
There has been a very exciting project that has started recently, and I will soon know whether or not that will be continuing. I can't say a word about it though as it's top secret, but what I can say is that it's a fantastic opportunity. I'll keep you posted!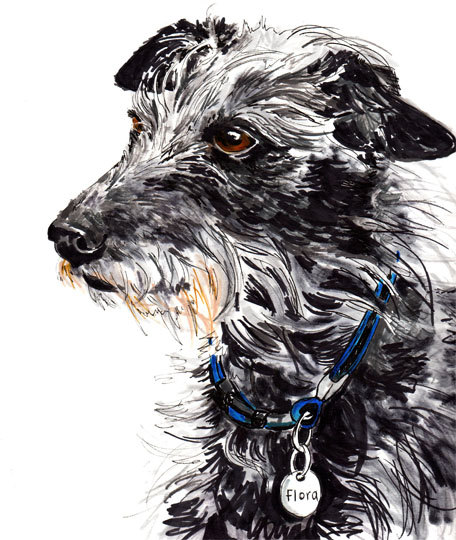 11) And we have to ask – which are your favourite pieces to date and why?
Other than the commissions I do continuously, I'd say I still have a lot to thank my Pooch in Pucci illustration for. She's what got me noticed and I'm still very fond of her. But apart from her, I'd say it's the new things I'm creating. greeting cards and fabrics are always fun to do, and they can appeal to such a range of people. It's great to see them going to new homes across the globe.
12) And lastly, where did the name 'Studio Legohead' come from?
Legohead Jo was a nickname I got labeled with when I was younger. I used to have a very severe bob haircut and someone, who is still a long-standing friend, saw me for the first time and said my hair looked like Lego hair. When I had my first exhibition, as a bit of a joke I named myself Studio Legohead and it just stuck!
***
For this week only SAVE 20% on your very own custom pet portrait or any order over $30 with the coupon code below! Shop Studio Legohead's Etsy store
or email [email protected] to place your order.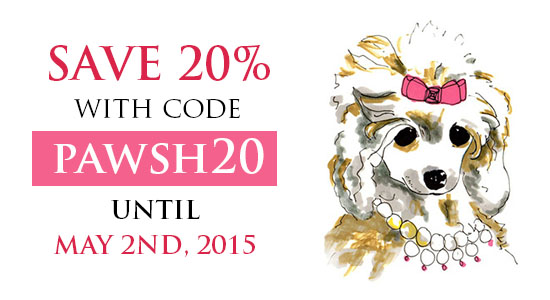 {Thank you for taking the time to speak with us once again Jo! Be sure to follow her cheerful work via the following handles — FACEBOOK | TWITTER | INSTAGRAM}
Save
Save