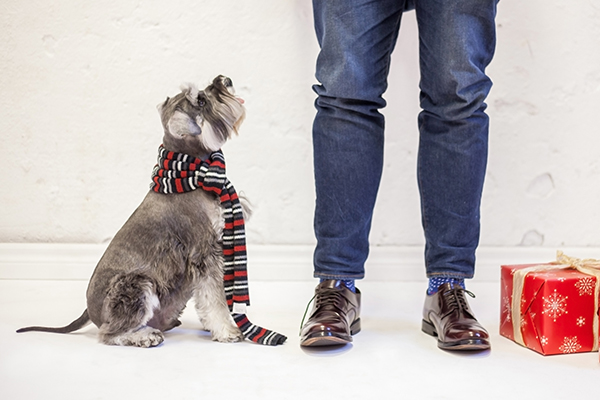 The holiday season is upon us and your furry friend will be looking to you to lead the way on the festive fun. Here are six sweet holiday traditions that you can start with your dog to celebrate Christmas in a dog-friendly style.
1. GIFT YOUR DOG A STOCKING
This might seem silly to some, but putting together a wee stocking to hang by the chimney with care that is specifically for your dog bestie is a lot of fun! Not only will you have a blast shopping for some cute themed items, but your pupster will have a great time nosing through their goodies from Santa Paws on Christmas morning.
2. PLAN A SNOW DAY
When those gorgeous white flakes begin to fall, put on your parka and snow pants (yes, snow pants, we don't care how silly you think you look) and take your dog out into the winter wonderland for some fun! Play chase, make snow angels, dig in the snow and run around until you are both tired. Trust us, nothing puts a twinkle in your dog's eye like some quality time in the great outdoors with their favourite human.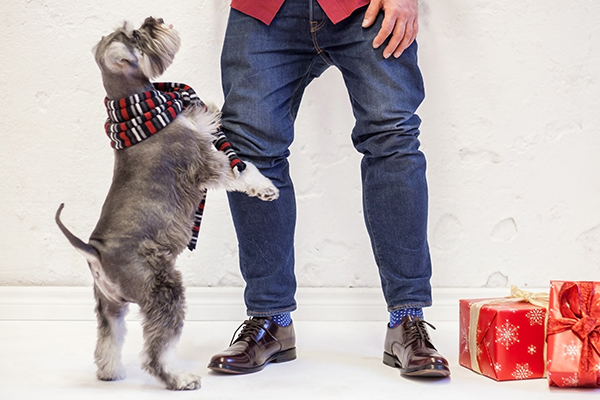 3. MAKE DOG TREATS WHEN HOLIDAY BAKING
When you're busy whipping up gingerbreads, shortbreads and figgy pudding (any Brits out there?) add a few scrumptious dog-friendly recipes to your list too. Your dog will love being treated while the rest of the family enjoys their goodies too. Try these Apple Oatmeal Dog Treats or these easy Sweet Potato Nothing Dog Treats.
4. DONATE DOG ITEMS TO YOUR LOCAL SHELTER
Giving back is important all year round, but especially at Christmas. Sniff out some of Fido's gently used items, such as blankets, toys, collars, or leashes, and take them down to your local animal shelter to help animals who don't have a happy home for the holidays. Or better yet, go shopping with your dog specifically for dog items to give away. Every pup deserves a toy at Christmas. A few of our favourite local rescues are Sit With Me Rescue, TEAM Dog Rescue, and Save Our Scruff Rescue.
5. CUDDLE UP FOR A DOG-FRIENDLY MOVIE NIGHT
In our home, the holiday season wouldn't be complete without watching our favourite Christmas movies. So get organized and stock up on a little junk food, a snugly blanket, fuzzy socks and your best canine friend. Hunker down on the couch and let the good times roll! Here are a few extra dog-friendly movie night tips if you're interested.
6. SLOW DOWN TO RECONNECT WITH YOUR DOG
It's easy to get swept away by the holiday hustle and bustle. After all, there is a lot of planning and organizing to get through. But by doing so it is also easy to overlook your dog, so take some time to slow down, relish the moment and make an effort to reconnect with your dog with these tips.

{Photography by LLB Creative}