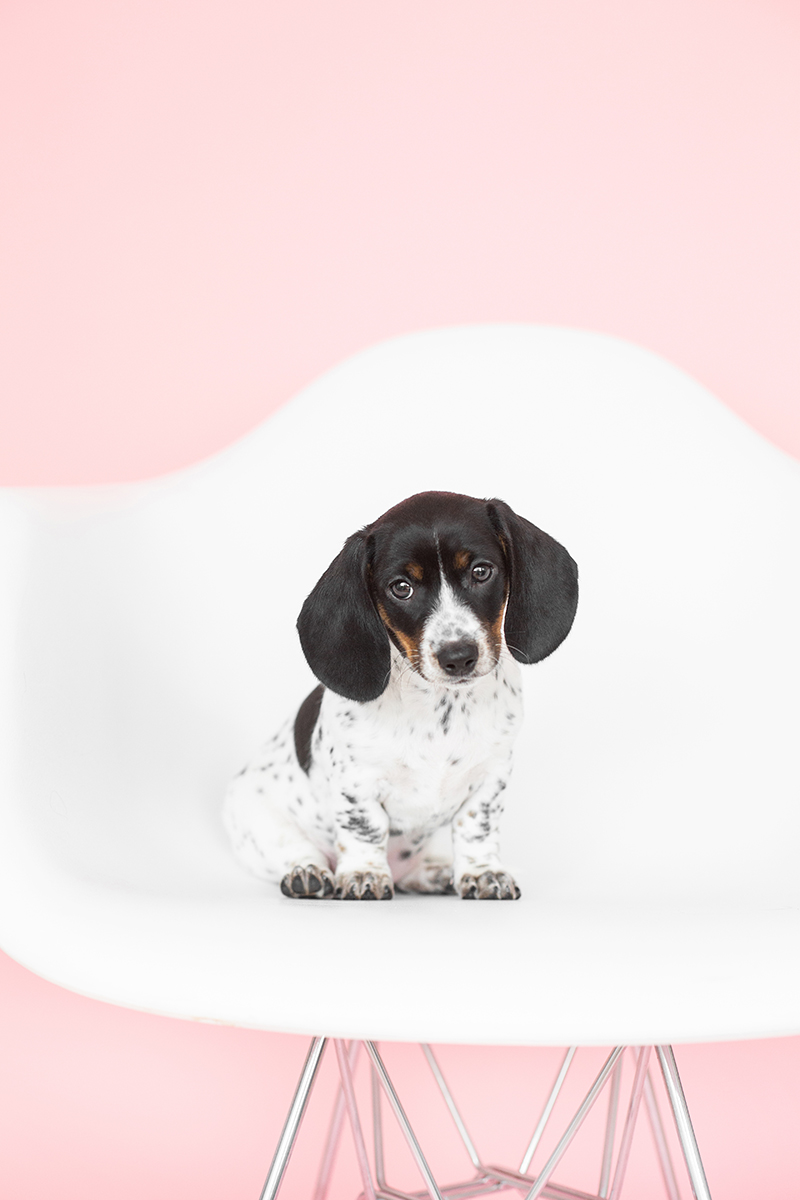 Puppies grow up quickly. You put them to bed one night and in the morning they're twice the size, as if in the blink of an eye. And while we all take a ga-zillion adorable photos of their sweet faces on our phones with all sorts of puppy photo props, often times we forget an essential detail for capturing the true nature of puppy hood. Scale.
Bringing scale into puppy photos is an important element because it showcases their teeny-tiny size. And while this may sound like a complex part of puppy photography, guaranteeing scale in your little one's portraits can be as simple as incorporating a few easy-to-find puppy photo props. Here are five props that you can easily source in the comfort of your own home to elevate your puppy's next photo session.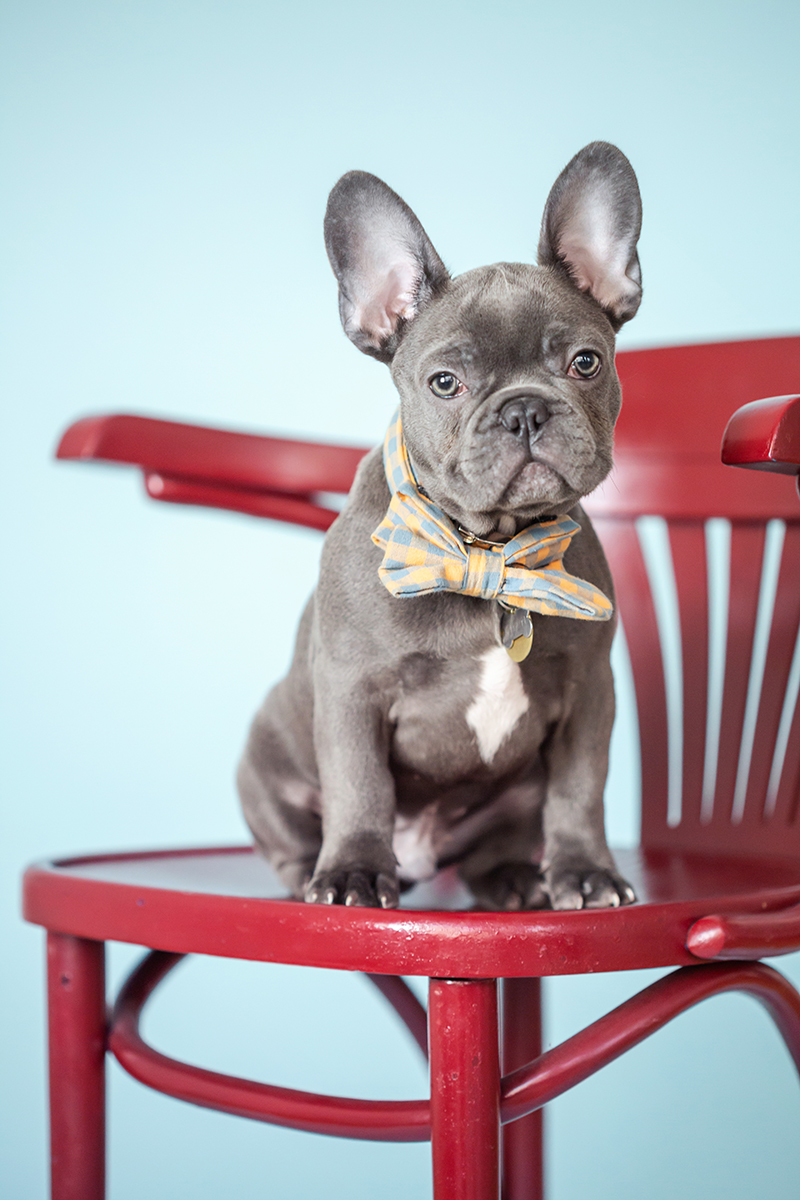 PUPPY PHOTO PROP IDEA #1:  A CHAIR
Chairs are a great prop for bringing scale into your puppy photos. Firstly, we all have chairs readily available. Secondly, chairs come in a variety of styles, meaning that you can change the look and feel of a puppy portrait with ease. Thirdly, and perhaps most usefully, popping a puppy safely on a chair can reduce their wiggle speed and allow you a better chance to capture a photo you love. To really show how your puppy grows, photograph them on the same chair every week and you'll have a darling photo collection in no time at all!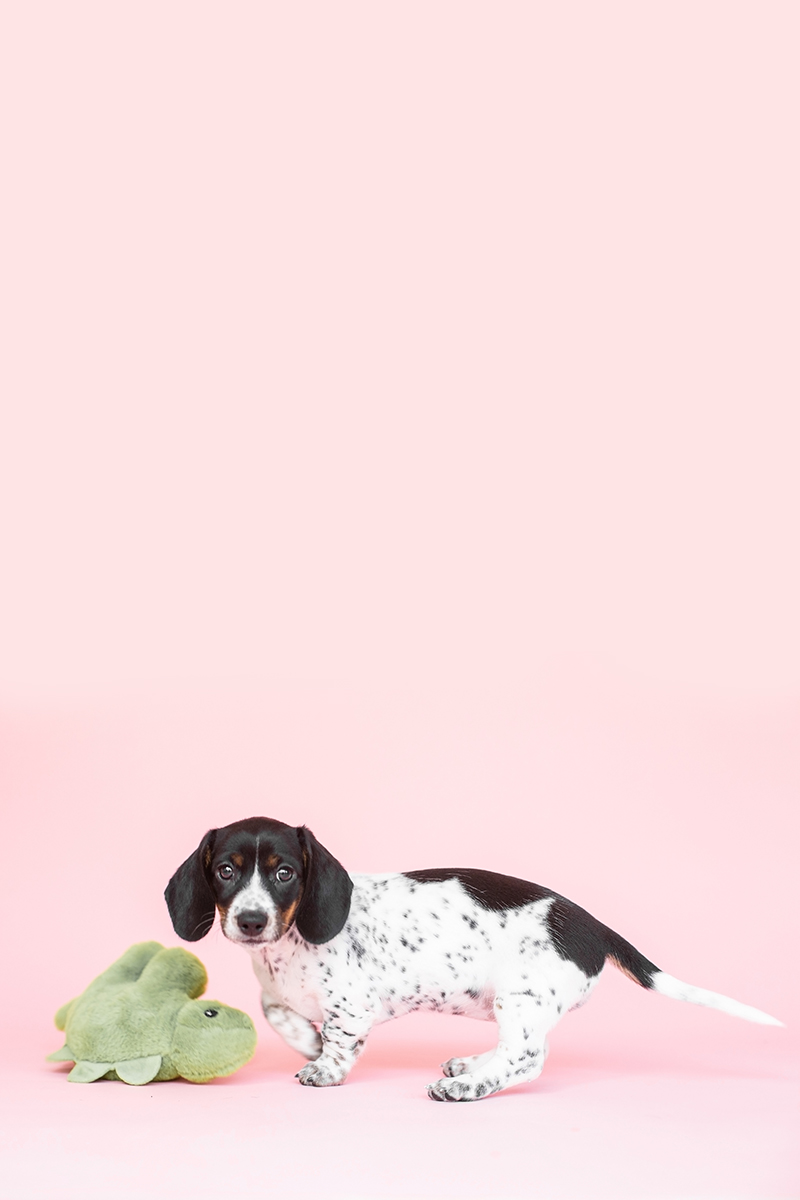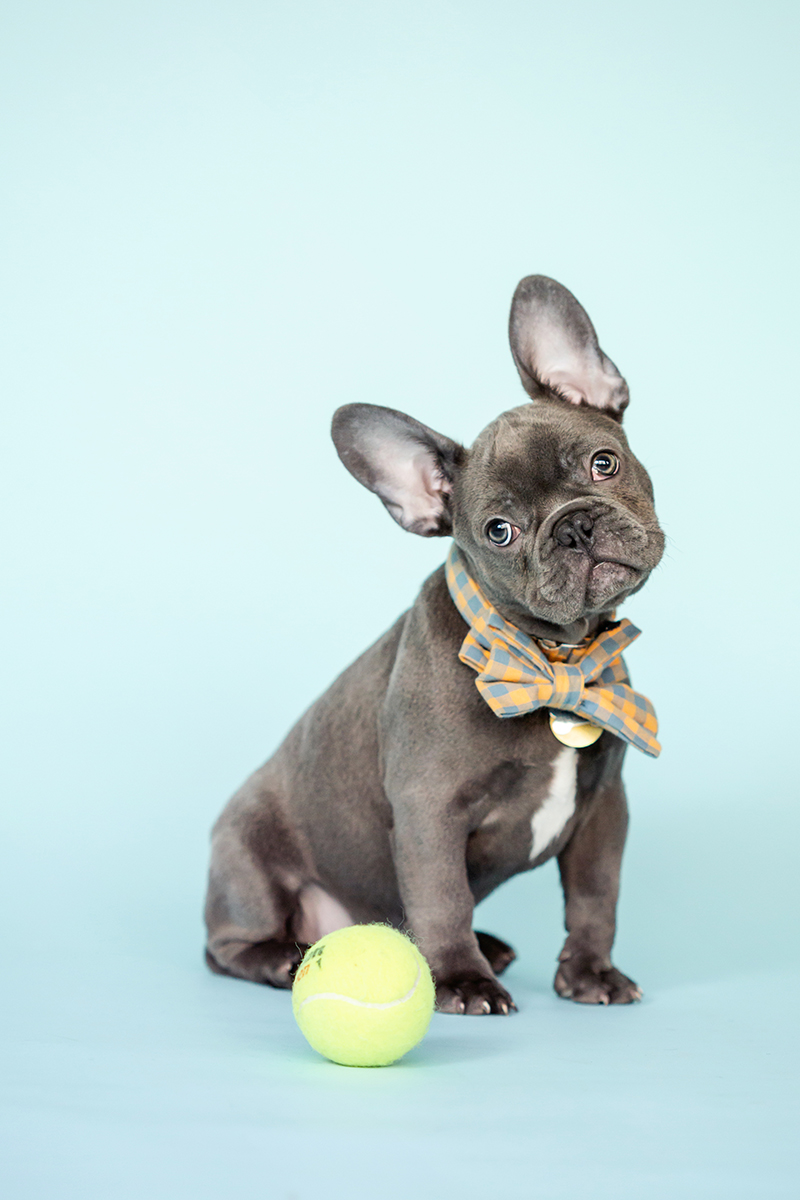 PUPPY PHOTO PROP IDEA #2:  THEIR FIRST OR FAVOURITE TOY
Puppies naturally gravitate toward a toy or two and usually their preference for this item holds true even when they reach adulthood. This makes their first or favourite toy a brilliant puppy photo prop to use for capturing scale, because they'll have fun playing with it (so no awkward posing) and in all likelihood play with this toy for many, many years making it a beloved item to look back on in their baby photos.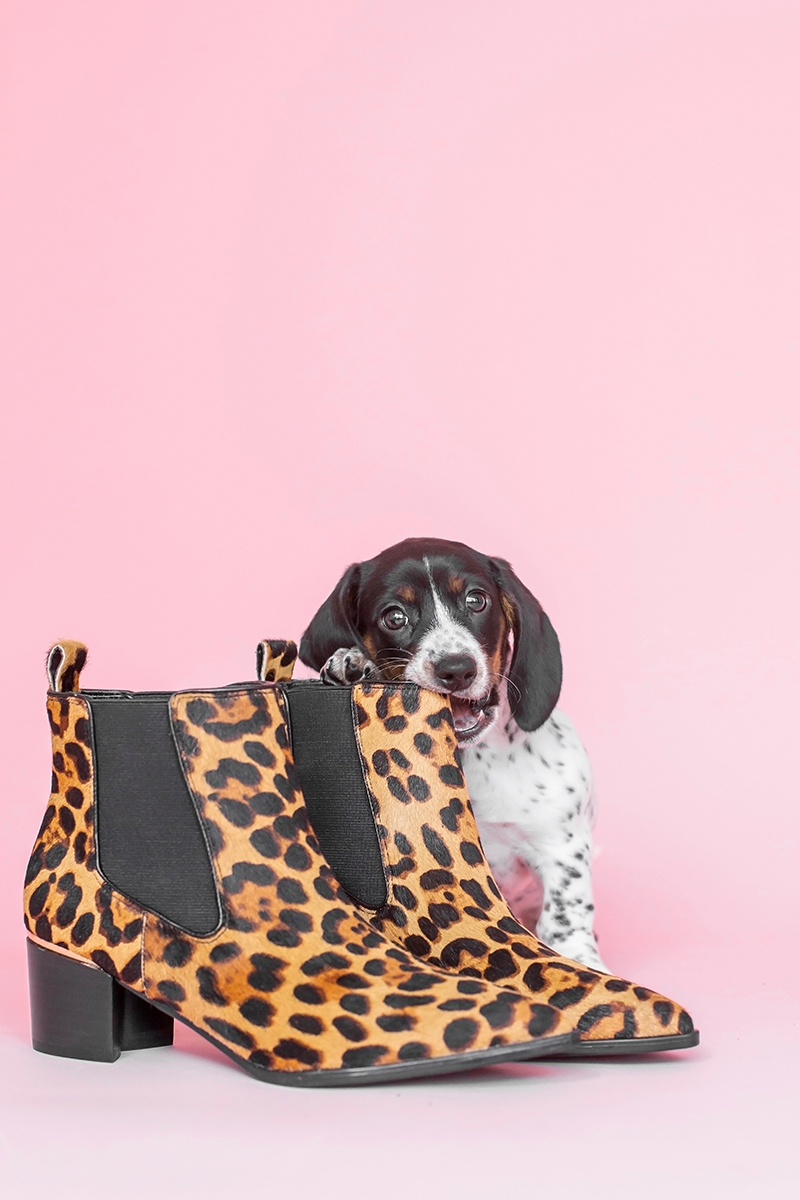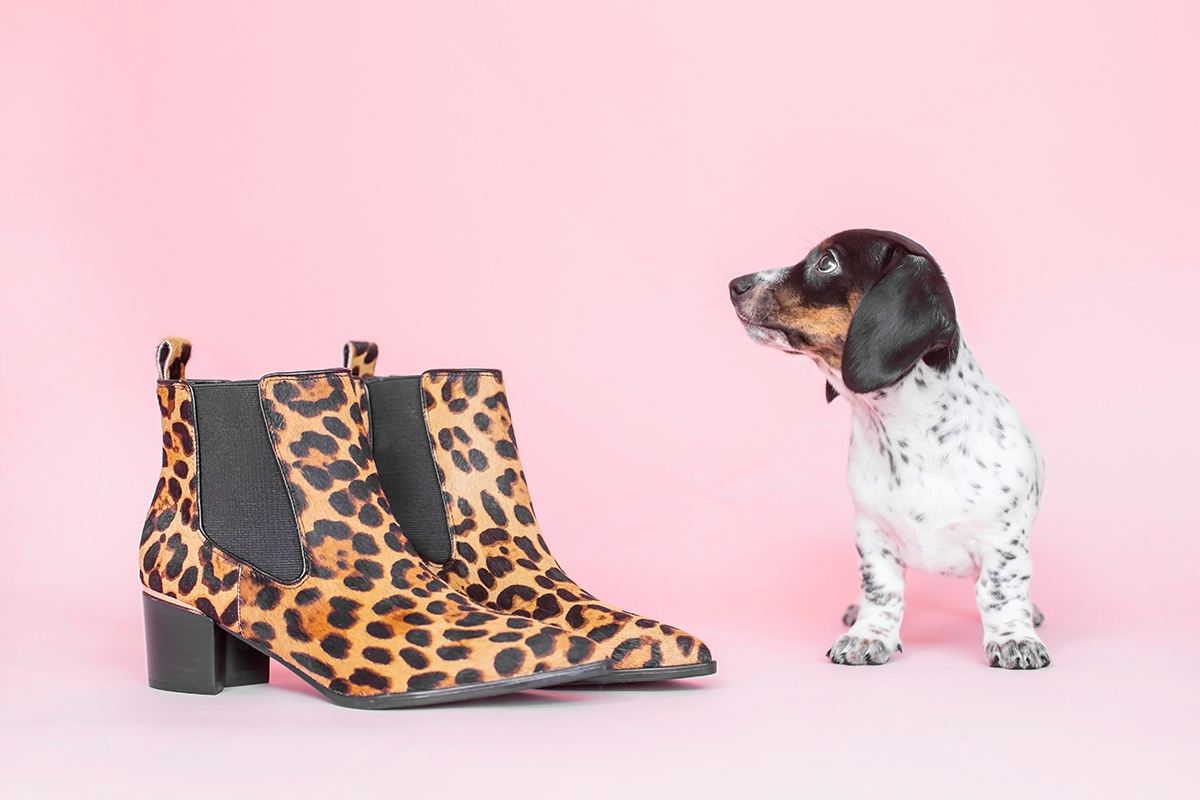 SUPER CUTE PROP IDEA #3:  A PAIR OF SHOES
Who doesn't have countless shoes in their closet? Pulling out a pair and plopping your perky puppy beside them is a sure way to capture some delightful moments of their pint-sized antics. Change the feel of the portrait by simply swapping out the style of shoe — heels, sneakers, slippers, the possibilities are endless!
These beautiful leopard print booties from Nine West Canada, for example, add an instant infusion of signature style to an otherwise simple shot. Just be mindful that little one may hunker down for a quick chew, so perhaps don't use your favourite shoes for this exercise.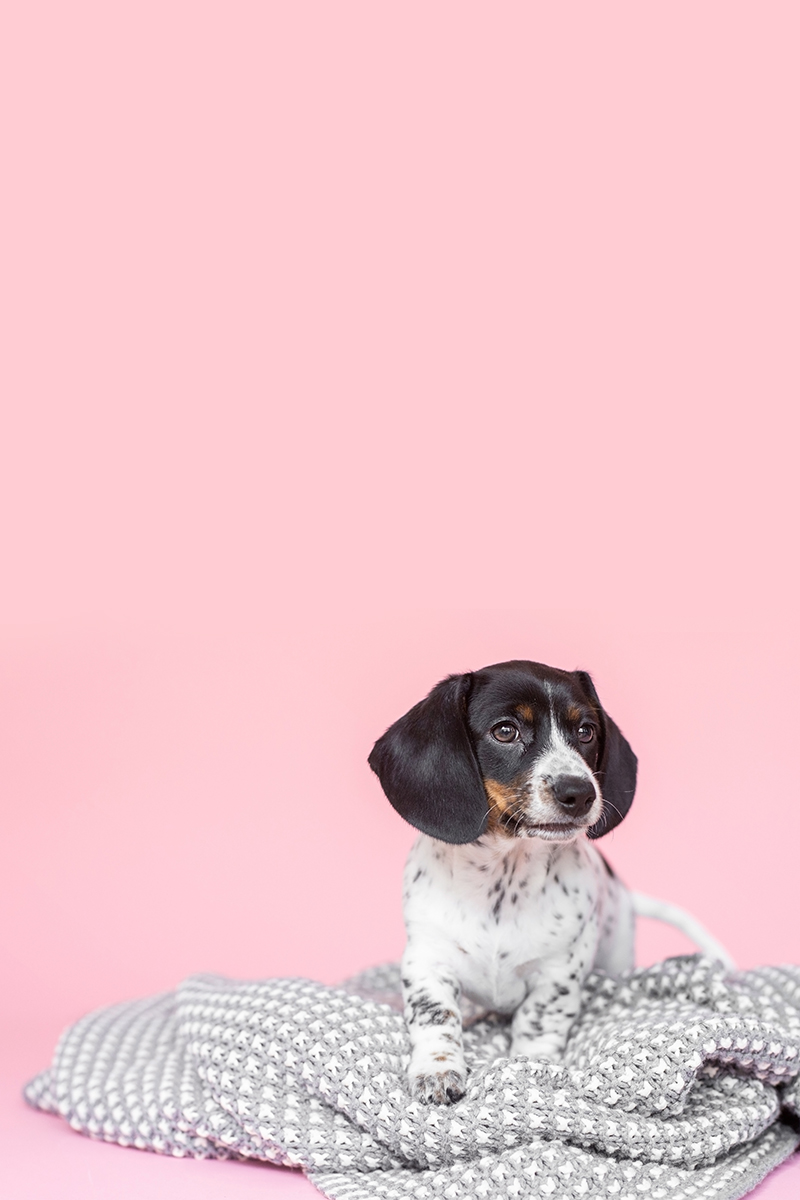 ANOTHER EASY PROP IDEA #4:  A COZY BLANKET
Wrap your puppy up like the chubby little taco they are or wait for them to snuggle down for a heart-melting nap — either way a common blanket is a gorgeous way to capture their size in an effortless way! Take a monthly photo of pupper with the same blanket as they grow up for the full effect of capturing how much they change over time.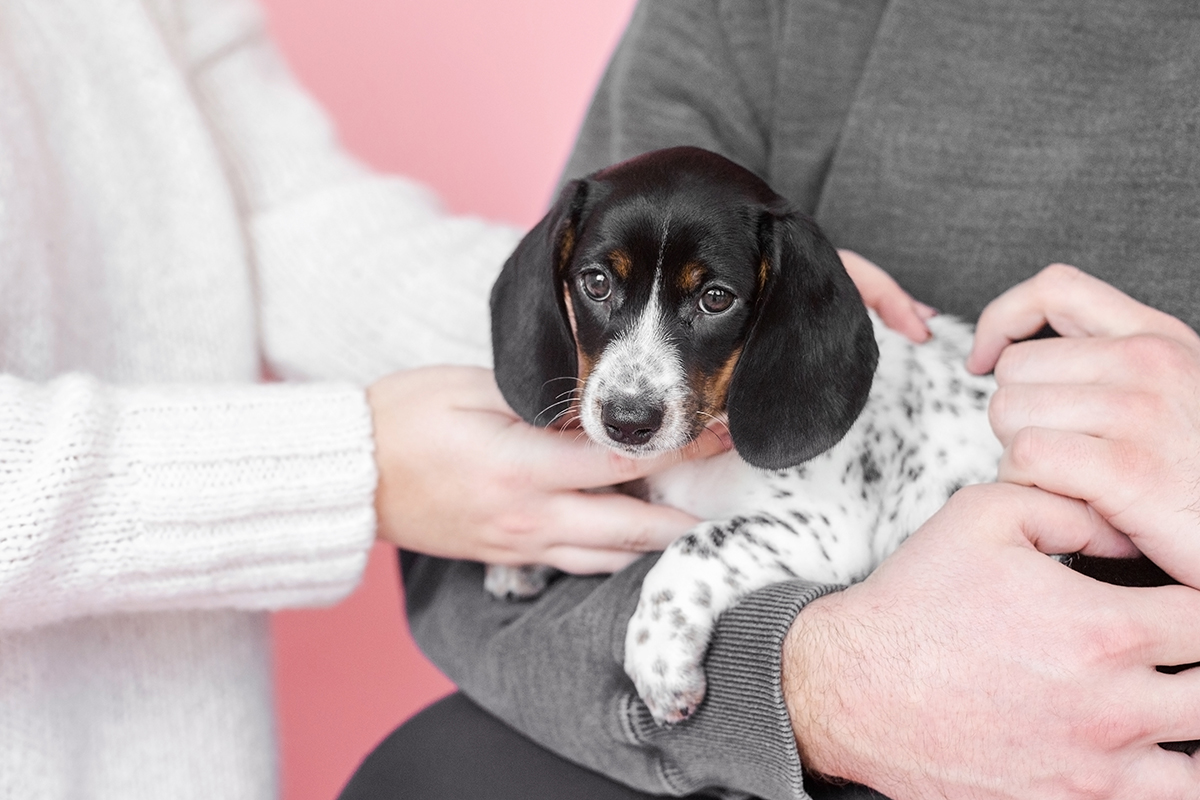 WHEN ALL ELSE FAILS PROP IDEA #5:  YOUR HANDS
If all else fails and the wiggles are too real and too quick to capture the puppy portrait of your dreams, simply scoop your little fur monster up into your arms and take a photo with your hands as the prop. You'll be amazed how once they're fully grown they will look so small in your hands. Plus, little one can enjoy lots of extra ear scratches with this particular prop choice!
BONUS TIP!
When it comes to photographing your puppy, be sure to schedule time for consistent portraits as they grow. We recommend taking time for a photo with the same prop of choice every month, so that you can truly capture all of their changes. Trust us, you'll treasure your puppy photos forever.
{Photography by Gooseberry Studios  |  Puppy models Ruthie and Huey}