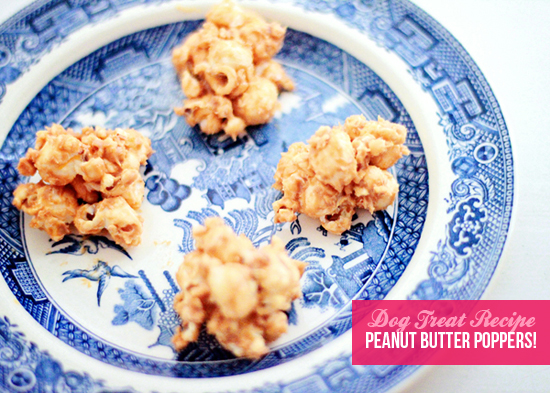 Teach your dog good habits by rewarding them with these easy, ooey-gooey 3-ingredient Peanut Butter Poppers! They're a breeze to make and will be gobbled up in no time at all! Be warned, these tasty morsels are a little messy to make, but their no-bake composition totally makes up for it1
Ingredients
1 cup peanut butter
1/2 cup natural stovetop popcorn
1 tsp extra virgin olive oil
a 1/2 tsp of all natural honey (optional)

Directions
1.  Pop popcorn in oil on stovetop and combine ingredients until popcorn is fully coated.
2.  Use a tablespoon to gently ball into small little clusters on wax paper. Don't worry if the kernels get crushed. Add a touch of honey if your peanut butter isn't sticky enough to hold everything together.
3.  Allow to set and serve (after good doggie behaviour, of course!)
PAWSH PERK: Pssst! The Pawsh newsletter comes out tomorrow and there is a brand new, exclusive dog-treat recipe in it, plus a sneak peek at our upcoming edition, super awesome Pawsh Studio promotions and so much more!
Sign up here to receive your copy!
Save