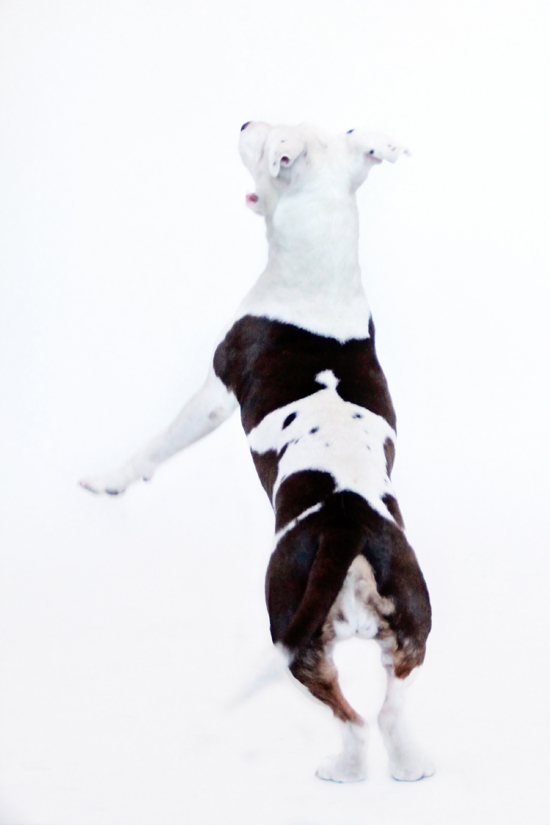 What does a dog need to be happy? There is a lot of debate about this in the pet community, but I am personally a firm believer that the bare basics (food, water, shelter, regular vet visits and cuddles) aren't really enough for a well-rounded canine life. Like us, they need adventure, fun and socialization, but coming up with new, dog-friendly activities can be a challenge. So here to help are 15 friendly suggestions to increase your dog's happiness:
1) Run together. I have recently started jogging with Lucy every morning to burn off a little extra of that puppy energy. She is wonderful at it — I on the other hand am uncoordinated and constantly out of breath. But it is FUN and a great way to bond! So don't worry about 'not being good at running' — your dog won't judge you.
2) Switch up your dog treats. Imagine eating the same thing every day — pretty boring, right? Consider using different wholesome, all-natural treats each month to keep your dog guessing.
3) Go swimming with your dog. Whether it's at a dog-friendly beach, a cottage lake or splashing around a kiddie pool, introduce your dog to the sensation of cool waves on their paws. Not all dogs will like to swim, but most of them enjoy a good frolic along the shore.
4) Brush your dog daily. Hunker down on the floor in front of the evening news and brush your dog's beautiful coat. This extra hands-on attention will be greatly welcome and it will help keep the tangles at bay!
5) Take a Sunday drive together. Have a dog who loves the car? Then resurrect the old Sunday drive habit. Pack a picnic or bagged lunch, hop in your favourite vehicle and hit the open road. The great thing about road trips is you can stop at new sites and smells along the way.
6) Take your dog's photo. Whether on your phone or with a proper camera, take your dog's photograph often. Ask him to 'sit' and 'stay' while you photograph the furry face and reward with lots of treats. Believe it or not, taking your dog's photograph can be an excellent training session and a wonderful way to spend time together.
7) Play fetch – a lot. Any dog can be taught how to play fetch and once they have mastered the basics, they adore this game.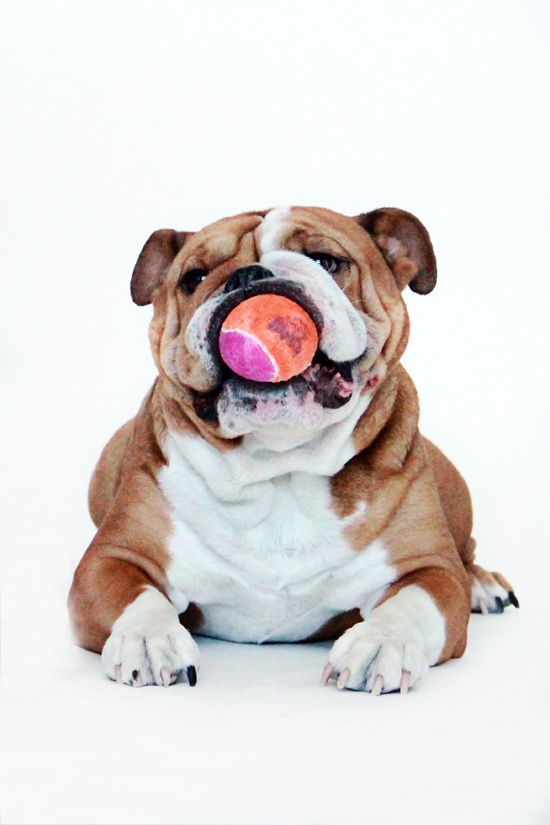 8) Take long, meandering walks together. Let your dog stop and sniff everything along the way. The pleasure of a walk for a dog is all the new things they get to discover with their nose. So don't rush. Take your time and enjoy the moment.
9) Hang out with other dog friends. This sort of socializing will be good for you and your dog. After all, who doesn't love gushing about canines to other canine-minded people? And your dog will have a fellow tail-wagger to wrestle with!
10) Sing for their supper. A lot of experts say that dogs don't like to be 'catered to,' especially when it comes to food. Their natural instinct is to hunt and earn their dinner. So instead of putting food in a dish and leaving them to it, consider making dinner time a game. Hide their kibble in a toy, ask them to do tricks or scatter it around a contained area so they have to 'suss it out.' All the time might be a bit much, but once in a while keeps dinner time interesting.
11) Try an agility class. Running, jumping, weaving and chasing — this sport is basically any dog's idea of heaven! Try a drop-in class in your city to get a feel for what your dog's abilities are. Then let loose! It's a great work out for both of you and makes your dog think!
12) Bark a bit. Whenever a dog barks, most of the time we say 'Shh! Shh!' It's true! However, barking is a part of doggy life and they like to use their voices. Try and find a place where your dog can bark a bit without annoying anyone once in a while. A dog park is a great place to start. Just be sure you have a command to get them quiet again when the time comes to leave. (A great method to train a dog not to bark.)
13) Let them meet new people. A lot of dogs are gregarious animals and LOVE people. So rather than keep them at home all – the – time, consider taking them out into the world. Even if it is just over to a friend's house or out to a patio for lunch — being out and about will allow your dog to meet new people and get some extra attention. (NOTE: not recommended for dog's who don't like new people… obviously.)
14) Put a dog-centered movie on. Sounds silly, but some dogs love watching other animals on screen. My two girls go nuts for the Glenn Close version of 101 Dalmations (live action). They will sit and watch the screen for ages, wagging their tales at the doggie actors and no doubt dreaming of Hollywood. Here is Rory watching the movie intently!
15) Have a bedtime routine. Again, this might sound silly, but having a loving bedtime routine with your dog makes it a time of day that they will look forward to. Tuck them into their own bed, have a few minutes of cuddle time and give them an extra special treat that they only get at that time (I love giving Sweet Potato Strips personally). It's a quiet routine that will send them off to sleep feeling loved and appreciated.
***
What special activities are part of your daily life to make your dog's life happier? I would love to hear any other suggestions you might have!
{Photography by Pawsh Studio}
Save
Save