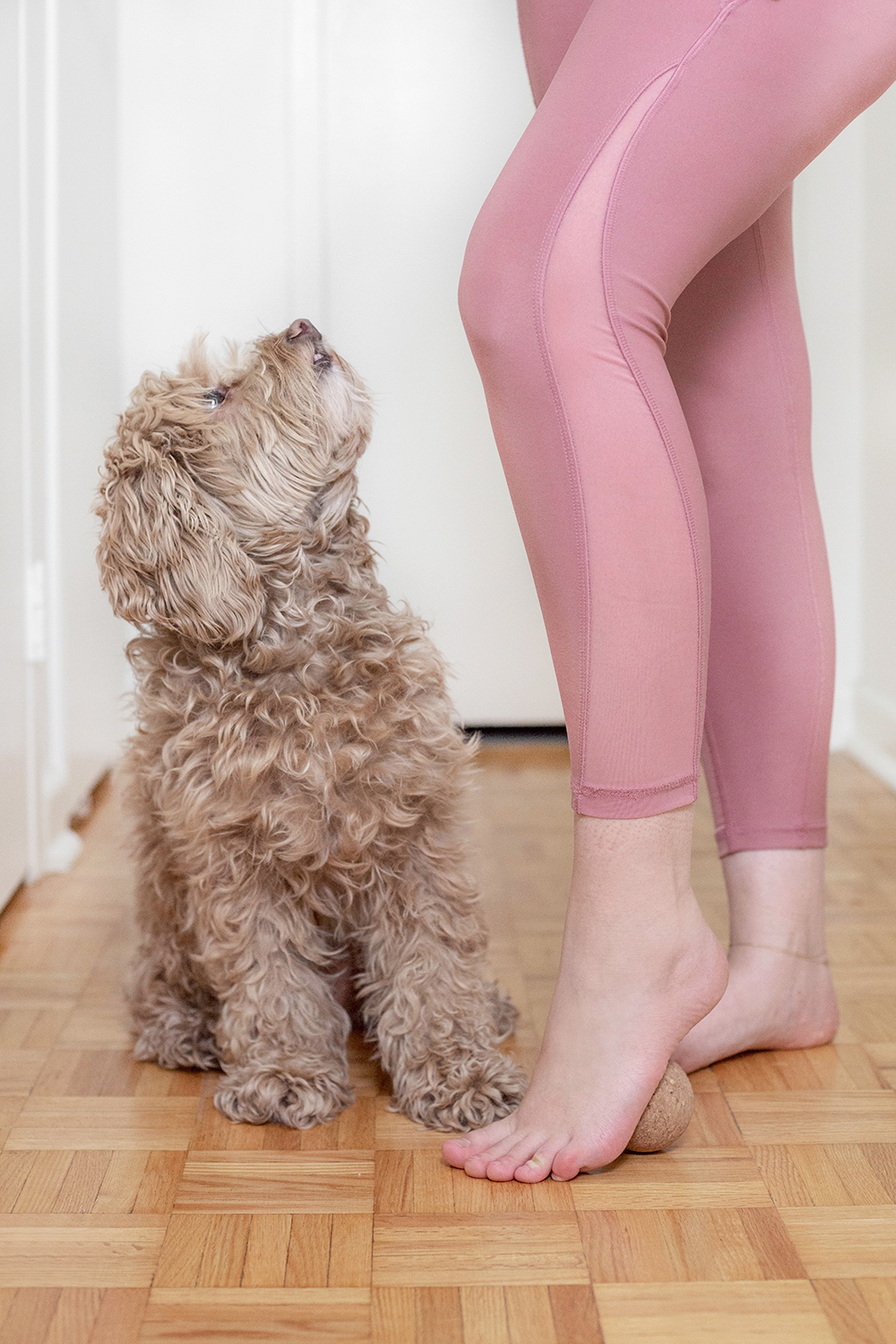 There are many factors that can cause anxiety in dogs and alter their once super obedient behaviour into total chaos. (Did you know that common dog anxiety symptoms involve acting out?) And one of the most underrated causes of anxiety in dogs stems from us – their devoted pet parents. That's right! We may be more responsible for our dog's anxious ways than we realize.
Dog's are acutely in tune to body language, it's the primary way they communicate and interact with the world around them. So if their human suddenly exhibits anxious, nervous energy (and all the subtle body language that accompanies that state), you can bet your bottom dollar that that dog will react to that anxiety by either mirroring the energy themselves or acting out.
Today we're chatting with Dr. Shalini Bhat, owner of The Movement Boutique and functional medicine practitioner, to learn all about anxiety relief techniques that we can practice for our own well-being and in turn, that of our dogs'.
DR. BHAT CHATS ABOUT HUMAN ANXIETY AND HOW IT CAN IMPACT OUR DOGS' WELL-BEING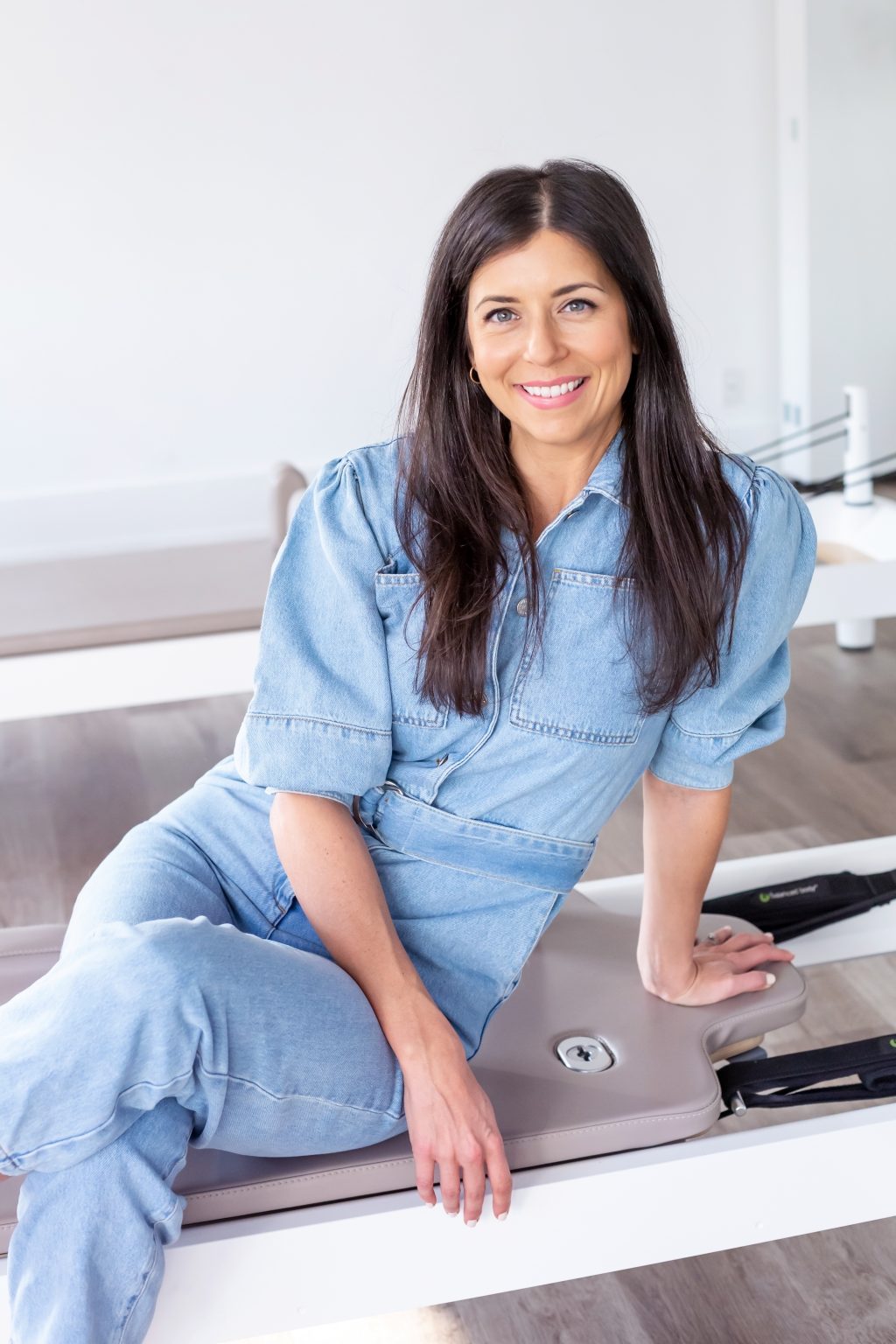 Picture anxiety like your dog when they're super hyper. Now bottle that high frequency vibe into your head, except there isn't a clear, rational stimulus – aka there isn't a clear reason for you to be feeling like this. The feeling is just there and you can't seem to shake it.
Sometimes when we feel like this and are caught in this heightened state it can affect our dogs. As we all know, our animals are SUPER in tune with us and can sense our energy – anxiety specifically. We might not know what's going on with us, but our dogs know that something is troubling us and they react to that by sometimes acting out themselves.
The top things that can contribute to, start or worsen anxiety are: stress, uncertainty, lack of purpose, lack of sleep and poor eating habits.
5 ANXIETY RELIEF TECHNIQUES FOR PET PARENTS FROM DR. BHAT
Let's take a peek at how to unleash (yes! dog joke!) that high frequency feeling and anxious energy so that we can ground ourselves and plug into a calmer state – for the sake of our own well-being and our dogs'.
ANXIETY RELIEF TIP 1:
LIMIT STIMULANTS
Caffeine, sugar and energy drinks can stimulate our adrenal hormones, like adrenaline and cortisol (more commonly known as our "stress hormones"). When these stress chemicals are already heightened, stimulants are more likely to signal MORE stress chemicals, thus putting our body into a state of fight or flight. But like the ball you throw up in the air for Fido, everything that goes up must come down.
Coming down from that HIGH of the stimulant (think: low blood sugar or 'needing' that second coffee), can stir up just as many stress chemicals. And what happens? That anxiety feeling increases.
My Suggestion:  Drink water before coffee or before reaching for something sweet. Sometimes we're just actually thirsty and our body confuses that for needing a 'pick me up.'
ANXIETY RELIEF TIP 2:
EMBRACE COZY ELEMENTS
Let's go back to picturing anxiety like a high pitched frequency vibration as I mentioned earlier. What else has a similar energy frequency? Think: shivering. And what do we do to help alleviate the physicality of shivering? We seek out soothing sensations. We welcome all the warm and cozy things to prevent being cold.
Things like a hot cup of tea, a lovely Epsom salts bath, curling up in a blanket or a light scarf, receiving a hug from a loved one, or gazing into a warm summer sunset can also help tremendously in calming that similar nervous energy that belongs to anxiety.
ANXIETY RELIEF TIP 3:
FASCIAL RELEASE
Ok it's bedtime, and you get that you should hit the sack, but all that high frequency anxiety is running through your veins. Who can go to sleep with their mind racing and shoulders scrunched up to their ears? Enter a super soothing buffer activity between you and sleep – fascial release.
I know, I know, what is this body magic? Let me explain.
Fascia is the fabric that encases all of our organs, our muscles, our nervous system and even our brain! Helping our fascia to relax can actually help us relax as a whole and counter feelings of anxiousness.
But how? Grab Fido's ball or a tennis ball and roll the bottom of your foot on it forward and back for about one minute per foot. Your shoulders will naturally drop as tension is released, a state of calm will come over you and you'll be more likely to achieve a deeper sleep!
My suggestion:  Engage in this super simple fascial release technique any time you feel stressed, worried or anxious – not just bedtime! It will help you to feel more relaxed no matter what the time of day. And bonus! The ball you need to make it happen can easily fit in your purse or bag!
ANXIETY RELIEF TIP 4:
STAY WELL NOURISHED
Another surefire way to throw the body into survival mode and into an anxious state? Hypoglycemia, or as the cool kids call it these days… HANGER!
When hanger strikes at the best of times, anxiousness will arise and the first thing we crave/search for to "soothe" ourselves… more sugar! Which ultimately is not helpful and sends our body into a vicious cycle of spiking and crashing, and spiking and crashing.
In general, a good rule of thumb is to avoid or limit the white/beige coloured foods in your diet – such as sugar, pastries, bread, pasta, cereal, muffins, cookies, cakes. Why? These foods spike our blood sugar, when we really need to keep blood sugar stable to keep calm and carry on.
To avoid the blood sugar crash – and consequent hanger that can feed anxiety – keep meals consistently fibre rich and nutrient dense. This means lots of plant colours, with good clean proteins (wild fish, grass fed meats, turkey, eggs, legumes) and fats (avocado, nuts/nut butters, seeds, olives).
Remember, we feed Fido the very best to keep them happy and healthy – don't forget to do the same for yourself too!
ANXIETY RELIEF TIP 5:
GET INTO NATURE
This anxiety calming technique is great for pet parents and especially urban dwellers. Going for nature walks, being near big trees, taking in the smells, the sights and the calming energy of nature has been shown to decrease stress hormones and boost endorphins, thus calming neurotransmitters. In Japan, there's even a name for this soothing nature practice: Shinrin yoku which translates to meaning "forest bathing" or "grounding."
Case and point: have you ever noticed how much calmer you feel at the beach? This is because of the practice of grounding and sticking bare feet in the sand. In the summer, take your shoes off and enjoy grounding by getting your barefeet in contact with the earth, via the sand or grass! Not only will this practice help you relieve anxiety, but you can bring Fido along for the fun too.
KEEPING CALM CAN HELP KEEP YOUR DOG CALMER TOO
Anxiety can be a challenging thing to cope with, especially when our internal nervousness starts activating our dog's instinct that 'something is wrong.' However, managing these feelings are entirely possible with any of the tips and techniques I've mentioned above. Remember, take things one step at a time, with your faithful dog by your side and both you and Fido will reap the benefits, as well as a calmer state.
---
FOR MORE WELLNESS INFORMATION, FIND THE MOVEMENT BOUTIQUE AT:
WEBSITE  |  INSTAGRAM  |  DR. BHAT'S INSTAGRAM